Teacher numbers fall by 10,000 in a year in England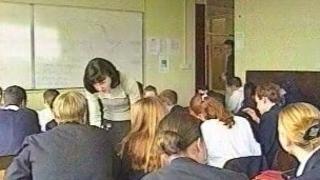 The number of teachers in England's state school system fell by 10,000 in the year to November, new figures show.
Government data on the school workforce shows teacher numbers have dropped for the first time in years.
Ministers say three quarters of the reduction is among teachers employed directly by local councils - for example as tutors or schools advisors.
The head teachers' body ASCL says budget pressure means heads are making difficult decisions to cut staff.
The drop of 10,000 is 2% of the full-time equivalent teaching posts in England's schools.
Teacher numbers had been growing steadily in recent years, increasing by 32,000 (7.9%) between spring 2000 and November 2011.
The total number working in England's state school system is now 438,000 - a fall of 10,000 from 2010, a workforce survey taken in November shows.
Meanwhile, numbers of teaching assistants in schools have almost trebled since 2000, rising to 219,800 in November 2011.
Academy expansion
A government spokesman said most of the reduction in teacher numbers was due to the loss of teachers from council posts and this was related to more schools becoming academies.
When schools become academies they are generally less closely linked to local authorities and may choose to "buy in" or provide for themselves services previously organised by local councils.
Under the expanding academy programme, schools are funded directly by central government and are given extra money which would have previously have been spent on their behalf by councils.
Among other things, councils would have spent the cash on tutors for sick or excluded pupils, or on "super teachers" who might help to train or advise teachers in schools.
Brian Lightman, general secretary of the Association of School and College Leaders, said head teachers were feeling pressure on their budgets and were having to make difficult decisions.
"This [fall in teacher numbers] will be mostly explained by a fall in school budgets," he told BBC News.
"In recent years, there has been more funding to bring people in for intervention work, but heads now have to reduce that.
"We are picking up from a lot of school leaders that they have to reduce staff. It is obviously worrying."
A spokesman for the Department for Education said: "The main reason for the drop in teacher numbers is because local authorities do not need to directly employ as many teachers, because more schools are becoming academies.
"Schools though are free to organise themselves as they see fit - they are best placed to make these decisions without undue or unnecessary influence from government. Head teachers are best placed to use their professional judgement to decide the most appropriate staffing structure for their school, including what role support staff play."
The general secretary of the National Union of Teachers, Christine Blower, said the census showed the "huge loss in teaching expertise and local authority support" that was occurring as a result of the government's "disastrous cuts agenda".
"Centrally employed teaching staff are very important to many aspects of teaching and learning from music lessons to SEN support," she said.
Head teachers' pay
The government's data also shows there are about 700 state school leaders earning more than £100,000 a year in England. About 200 of those earn more than £110,000 a year.
The average salary of a school leader in England's state schools is £55,500, according to the survey, which was carried out in November.
And 1,600 school leaders earned less than £40,000 last year; they were mostly in primary or nursery schools.
On average, a classroom teacher earned £34,400 a year.