Free school meals changes 'could discourage work'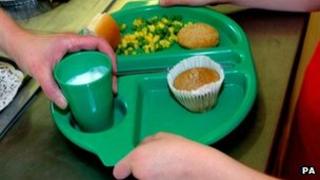 Planned changes to the free school meals (FSM) system could put thousands of low-income families in England off working, a charity says.
The meals are linked to low-income benefits that will merge into a single Universal Credit in 2013.
The Children's Society says if ministers tie eligibility to an income level, then thousands of parents may choose to work less to qualify for FSM.
The government says it wants to ensure poor families do not lose out.
Children's Minister Sarah Teather said the changes to the welfare system mean that there would have to be changes to the way free school meals were allocated.
'Benefits cliff-edge'
Although no plans have been published, ministers are considering basing eligibility on income and the Children's Society says it believes the level being considered is £7,500 a year.
And it is warning that this would create a benefits "cliff-edge" that could see 120,000 families worse off.
In its analysis of the idea, the society says: "Were an earnings threshold of £7,500 introduced for entitlement to free school meals under the Universal Credit, this would mean around 120,000 families in England (with a total of around 350,000 school-age children) could be put in a position where they would be better off if they dropped their earnings... to below the £7,500 earnings threshold in order to bring them into entitlement for free school meals."
Eligibility for free school meals is particularly important because it not only gives children access to free meals, but also to a range of other subsidies such as free uniforms and council discount cards.
It is also the basis on which schools are allocated extra funds to deal with the educational effects of disadvantage.
The Children's Society's campaign for childhood director, Elaine Hindal, said the introduction of a new system should be used as a chance to increase the availability of free school meals.
"This would be in line with the government's aim to make work pay by paving the way for many families to return to employment and help lift them out of poverty," she said.
"And if an income cap in the region of £7,500 is introduced when the system is reformed then not only will hundreds of thousands of our poorest children still go without a free healthy lunch, but over 100,000 struggling, low-income working families will be caught in a trap where work doesn't pay."
One mother, Jo, told the BBC that currently she was better off financially to stay at home and live off benefits. She added: "I would love to go back to work but its not just financially viable for me to go back at the moment."
The Children's Society has launched a petition calling on the government to extend free school meals to all children living in poverty in England - including low-income working families - by October.
'Way forward'
But a DfE spokeswoman said basing eligibility on Universal Credit was too expensive and would mean more than half of England's children could be in receipt of free school meals.
She said the priority was to make sure that children from low-income families were able to get a nutritious meal at school.
She added: "We are considering how we can ease the transition to the new system, and whether we can make it easier for families to keep free school meals if their income rises."
Ms Teather added: "The reforms mean we will have to think hard about the best way to decide who is eligible for FSM so they continue to be targeted at those who need them most.
"No plans have yet been set and we will be consulting later this year about the best way forward."