More university places for top A-level grade students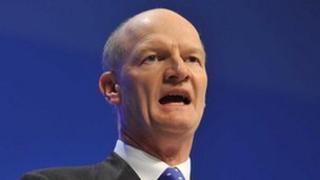 Many more university places than expected are going to be allocated to top-grade A-level applicants this year.
Universities Minister David Willetts said 85,000 places - rather than the anticipated 65,000 - would go to students with AAB A-level grades.
This represents about one in four entrants - who are now much more likely to get their first choice.
Mr Willetts also admitted that a higher education bill, taking forward a raft of reforms, was now "very unlikely".
Competing for places
In a speech to a conference of the Higher Education Funding Council for England, Mr Willetts set out a progress report on changes to university funding and places.
He signalled afterwards that the White Paper published last summer was looking increasingly unlikely to become legislation.
But many changes - such as promoting more of a market in places - are already going ahead.
This includes removing the limit on places for applicants who get AAB grades or better.
"It is a radical change that has started to liberate the system," said Mr Willetts.
It means that 20,000 more places than expected will be available to allow universities to expand to take these high-flying students.
However it will also mean that these 20,000 places will not be available to other institutions.
The Russell Group of leading universities says it wants even more places to be made available in this way - and calls for numbers to be relaxed for pupils getting ABB grades.
But there have been warnings that this will put pressure on some middle-ranking universities as students with high grades "trade up" to more prestigious institutions.
There have also been concerns about the instability created by such a shifting market in places.
Along with the 85,000 places now allocated to AAB students, there are a further 20,000 ring-fenced for those with lower tuition fees - leaving a shrinking pool of places for the rest of the university sector.
Mr Willetts is soon expected to announce the next wave of competition for places - and there were calls for him to pause until the effects of the current changes had been assessed.
The reforms will also have an impact on the attitude of students, said Mr Willetts, who predicted that universities would come under much greater consumer scrutiny about the quality of courses and teaching.
The universities minister used the speech to voice his support for Les Ebdon, whose appointment to head the Office for Fair Access (Offa) had been challenged by a select committee.
But Mr Willetts told the conference that there would be "no quotas" and "no social engineering" and that university admissions should be a "meritocracy".
Nonetheless, Offa will still retain its sanctions over universities which do not meet the demands over "widening participation" in higher education.
International market
He said that £900m was being spent on projects to widen access, such as summer schools, outreach schemes and bursaries.
Mr Willetts also spoke about the economic significance of the burgeoning international opportunities for UK universities.
He quoted Unesco figures that by 2025, the number of global students in higher education will have risen to 260 million from the current 150 million.
As well as individual universities recruiting overseas students - and setting up overseas campuses - he called for a larger scale arrangement between the UK's university sector and would-be students in some other countries.
But he was warned by Lord Winston that there were concerns that the tightening of visa arrangements could give the impression that UK universities were "closed for business".
Mr Willetts also suggested that the capacity to set up a new university - both in practice, principles and assessment - could be exported from the UK to other countries.
"We are still only scratching the surface. This is one of Britain's great growth industries of the future," he said.