Half of free schools have no site, minister says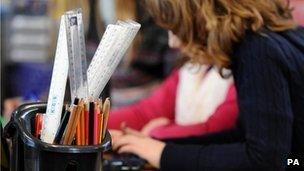 Half the free schools set to open later this year have not yet secured a site, Schools Minister Nick Gibb has said.
Just 35 of the 79 approved to open in 2012 have found premises, Mr Gibb said in response to a parliamentary question from Labour's Stephen Twigg.
The shadow education secretary said the government's flagship free-schools policy was in "disarray".
But the government said site negotiations were progressing for the vast majority.
Free schools are state-funded schools started by parents, teachers or other groups.
They are accountable to central government rather than the local authority, and as such do not benefit from the help local councils offer mainstream school in finding sites.
A charity that works with the government on the free-school project, the New Schools Network, said finding a site was often the most challenging aspect of setting them up.
Chief operating officer Natalie Evans told the Times Educational Supplement: "This is something the government really needs to think about."
She added: "Finding premises is extremely difficult, and is one of the biggest frustrations and a real headache for groups."
The charity is thinking of asking the government to try to persuade developers to offer sites for free schools when they undertake new projects.
Mr Twigg said Michael Gove's flagship schools policy appeared to be in disarray.
"With half of his favoured free schools without a site for their opening in September, parents will be concerned that the government's approach to new schools is too much of a gamble.
"The government's approach to school buildings is chaotic."
He urged the government to think again and address the real need in the system for primary-school places.
A Department for Education spokesman said it was working with free schools to help them realise their vision of creating great new schools.
Related Internet Links
The BBC is not responsible for the content of external sites.