Visa rules must not deter Indian students, says Oxford
By Philip Churm
BBC Asian Network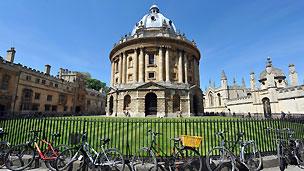 Oxford University is urging potential students from India not to be deterred from coming to the UK to study by tough new visa rules.
Moves to cut immigration mean fewer overseas students are now allowed to stay in the UK after their courses end.
Oxford Vice-Chancellor Andrew Hamilton has warned that scrapping the post-study work visa may deter foreign student enrolments.
Non-EU students bring around £9bn into the UK economy.
Overall the government has said there will be 70,000 fewer student visas issued over a year.
And only those offered a job with a recognised employer will be able to stay on after they finish their courses.
Indians are the sixth largest group of foreign students at Oxford University. There are more than 350 of them, most of them postgraduates.
And university chiefs are trying to reassure prospective students that it is still among the best destination universities in the world.
Arghya Sengupta is a postgraduate law student and president of the 150-year-old Oxford Indian Society.
He told the BBC Asian Network: "Given the fact that one of the major incentives is the opportunity of getting work for at least some period of time, I think that the post-study work visa being banned as a blanket rule perhaps may be slightly too drastic."
The post-study work visa allowed non-EU students to work for up to two years after they had finished their course at university.
That scheme was closed on 6 April because the government believed it was being abused by people more interested in working in the UK than studying.
Dr Sally Mapstone, Pro-Vice Chancellor for Education at the University of Oxford, believes the recent rule changes could make the university less attractive to students from countries like India.
She said: "Over the past couple of years there have been a lot of changes to visa legislation.
"For many students this would have been, we feel, quite confusing and also potentially off-putting. So we are slightly concerned that some of those changes might put students off."
Student Anup Surendranath told the BBC that prospective students could easily be drawn to top universities elsewhere in the world.
"People want to go abroad, at least from India, for better work opportunities," he said.
"If it's not the UK it's going to be other countries and other countries are more than willing to attract students from countries like India.
"Canada, Australia and New Zealand are increasingly competitive in this market.
Immigration Minister Damian Green said the UK hopes to continue to attract the brightest and best international students, but that it needs to be more selective about who comes here.
He added that there were still some opportunities to work after completing courses through a new Graduate Entrepreneur Scheme, but he estimated there would be around 70,000 fewer student visas issued.
But critics of the policy say that post-study work visas have given students the opportunity of paying off loans taken out to fund their courses.
Mr Surendranath said: "For a large proportion of the Indian middle class it involves huge cost to come to the UK. So a lot of people take huge loans from banks and now they have no work opportunity to repay that.
"I think there's a lot of reaction in terms of looking at other countries as possible avenues for pursuing higher education and not coming to the UK."
Others argue that the new visa rules will be of much more benefit to the students' home countries than the UK.
Prajwal Parajuly, an Oxford student and author of The Gurkha's Daughter, said: "I highly doubt if universities like Oxford and Cambridge who attract the kind of students who would be discouraged to apply simply because of changes in the visa rules.
"So, if the UK wants to be silly and turn away the world's best qualified people it's the UK's loss and the home country's gain."
Dr Mapstone urged the government to be more careful when considering rules surrounding student visas. "We recognise the concerns about immigration controls but we think that an equally positive message is that the UK has always been somewhere that you can come and pursue scholarship and critical inquiry and that must continue."
Oxford University is not alone in being concerned about the impact of the visa changes.
Umbrella group Universities UK said: "We think some legitimate students may be being put off; but it's too early for official figures to show the extent to which this is true. The message must be that the UK remains open to legitimate international students.
"We have also called for international students to be taken out of UK migration figures as the vast majority of non-EU students leave the UK after they've finished their studies - so should not be counted alongside long-term settlers."
Related Internet Links
The BBC is not responsible for the content of external sites.