Half of England's secondary schools becoming academies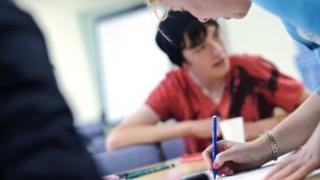 Academies will soon dominate England's secondary education landscape, with more than half of schools having sought to convert, official figures show.
Some 1,641 out of a total of 3,261 secondaries have applied to become the state-funded but independently run schools - 1,283 are already open.
This means that 50.3% of secondaries no longer have official ties with their local authority.
Schools minister Lord Hill said heads were seizing independence.
Academies are funded directly by the secretary of state rather than through their local authority and they have more freedoms to opt out of the national curriculum and change term and even day length.
Ministers say this gives head teachers the power to innovate and improve the standard of education on offer without undue interference.
More freedoms
But detractors argue academies are unaccountable and undemocratic as they have no link with locally-elected education authorities which provide support services to schools in their area and manage admissions.
Soon after the coalition government came to power in May 2010, Education Secretary Michael Gove invited all outstanding schools to convert to academy status. At that point there were 203 academies.
He then further extended the invitation to all types of schools. And many took the opportunity to discover how much more money would be added to their budgets as they become responsible for commissioning their own support services.
Announcing the tipping point, Lord Hill said: "A recent survey shows that hundreds of academies have already adapted the curriculum to raise standards, and a third are changing - or are considering changing - term times.
"With greater freedoms, these state-funded schools can truly meet the needs of local parents and pupils."
The DfE also said that in two areas of the country, Darlington and Rutland, 100% of state-funded schools were academies.
And in six other local authorities all schools are either already academies or on the way to becoming academies. These include Bexley, Swindon, Kingston-Upon-Thames and Bromley.