Summer was the most dangerous time for Tudors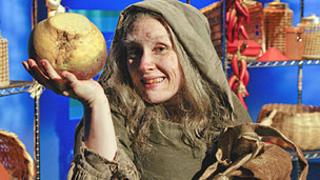 Summer was by far the most dangerous time of year for the Tudors, suggests research from the University of Oxford.
Fatal accidents were much more likely to take place during the agricultural peak season, a study of 16th Century coroner reports has revealed.
Cart crashes, dangerous harvesting techniques, horse accidents and windmill mangling were among the perils facing the Tudor farm worker.
Historian Steven Gunn has been studying 9,000 reports of Tudor misfortune.
He has found that between 1558 and 1560, almost three-quarters of fatal accidents took place during the summer months.
Farming equipment was sharp and lethal.
And the extra activity around watermills, windmills and overloaded carts also claimed a harvest of unfortunate victims, crushed, squashed or flattened.
Hay, watch out
There was also a case of someone falling asleep beside a hayrick which collapsed and then suffocated its drowsy victim.
In summertime, the living wasn't particularly easy. The rise in agricultural activity meant more likelihood of being trampled or injured by animals, including sheep and pigs - which was even more risky when it involved child labour.
A five-year-old pig herder from Huggate in Yorkshire was killed in an accident with his animals.
But the equivalent of traffic accidents were fatal incidents involving horses - with people falling off, being dragged along, trampled or kicked. Horses were responsible for more than nine out of 10 fatal accidents with animals.
In one case, a butcher's boy died falling into a pit in the roadside in St Martin-in-the-Fields in London, while bringing a horseload of meat through the city.
All those Shakespearean tales of forests are a reminder of how much woodland was part of the surroundings. And that meant more chances of falling from a height.
Falling out of trees when gathering fruit or nuts was part of the Tudor way of death.
But what about gathering crows? Dr Gunn says there were even handbooks specifically warning about the risks of climbing trees to get rid of crows' nests.
"It sounds like health and safety gone mad, but given that we have found several men who fell to their deaths doing just this, perhaps it was necessary," he said.
Cutting risks
Even pig farmers could suffer from such height hazards - as they fell out of oak trees looking for acorns in the early autumn.
Wood was also something of an accident waiting to happen. More than one in 10 fatal accidents involved cutting or shifting wood.
"Tudor lumberjack technique seems to have been a bit wanting. Men in Bedfordshire, Cumberland, Hampshire, Somerset, Westmorland and Yorkshire were all hit by ash, oak or poplar trees they were cutting down," said Dr Gunn.
There were other cases that just seemed unlucky.
John Broke, a Yorkshire cloth-maker, was "building a fence when an oak tree cut down some time before suddenly rolled downhill and hit him".
The project, funded by the Economic and Social Research Council, has been examining coroners' reports in the National Archives.
Dr Gunn's previous study highlighted a number of strange ways that people died, in accidents involving archery, dancing bears and early handguns.
But this latest analysis shows a pattern for when such fatal accidents were likely to have taken place.
"Deaths happened in various and unexpected ways," he says.