Q&A: University A-level plan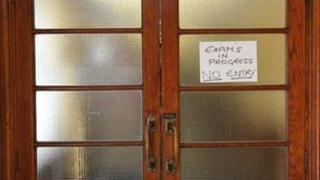 A guide to why Education Secretary Michael Gove wants universities to have greater involvement in A-levels set by English exam boards.
What is Mr Gove proposing?
The education secretary wants the content of A-level courses to be controlled by universities, rather than ministers and England's exam boards. He has written to the qualifications watchdog for England, Ofqual, saying universities must take a "leading role".
Why does he think this is necessary?
Mr Gove is concerned that A-levels are not preparing students adequately for the rigours of undergraduate degree studies. In his letter to Ofqual, he said he feared qualifications fell short of "commanding the level of confidence we would want to see". The letter comes as a study by Cambridge Assessment found many youngsters struggled with the structure of an essay, punctuation and independent research after being "spoon-fed" through A-levels.
Did universities once have a greater say in A-levels?
Yes, when A-levels were first introduced in the 1950s they were set by university-led exam boards and were seen as a gateway to higher education. But universities have been edged out over the past three decades, with government control increasing. Currently the Department for Education outlines the structure of A-levels and sets out criteria that exam boards are expected to follow.
Have ministers made any significant changes to A-levels?
Yes. In 2001, the then Labour government introduced the Advanced Subsidiary exam, or AS-level. This involves pupils sitting an extra public exam, usually in the lower sixth year. But the AS-level has been controversial, with critics saying it breaks down courses into a series of modules which students can retake to improve their overall grade in A2 exams.
When will the changes take effect?
If Mr Gove's proposals go ahead, the new-style A-levels could be introduced in September 2014 for students sitting A-levels in 2016.
What do the teachers' unions think of the proposals?
The Association of Teachers and Lecturers said the plan was a "quick-fix gimmick". The National Union of Teachers said it was disappointed that Mr Gove had approached Ofqual without first consulting teachers. The Association of School and College Leaders said A-levels were not only about preparing students for degree courses.
What about students who do not go onto university?
The number of 18-year-olds taking A-levels has increased over the years and many young people use A-levels as a springboard for apprenticeships, employment-based training or entering the workforce. These youngsters may feel sidelined by these proposals, which focus on university entry.
What will happen elsewhere in the UK?
Mr Gove's plans apply only to exams set by English exams boards. Students in Wales and Northern Ireland will only be affected if their school uses an English-based exam board. In Scotland, students do not take A-levels. Instead they sit Highers and also have the option to sit more rigorous Advanced Highers.