Teachers say school meals leave pupils hungry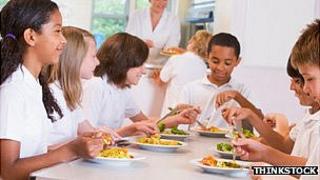 Some children are going hungry in schools because they are not being given enough food to eat at dinner time, a teachers' leaders has warned.
ATL teachers' union leader, Mary Bousted said teachers were concerned about the size of portions, quality and choice of dinners available.
A snap poll of 503 teachers claimed many schools are charging more for meals, some rising by £100 a year.
School food is subject to stringent nutritional guidelines.
The survey results were released at the annual ATL conference in Manchester, where teachers debated the take-up of free school meals and their importance.
The poll also suggested a rise in the number of children on free school meals, which are offered to those from families on benefit, with a third of teachers surveyed saying they had seen a rise in the past five years. Most blamed the economic downturn and rising unemployment.
The conference heard claims of an increasing number of children becoming eligible for free school meals.
The ATL's general secretary Mary Bousted said at a time when more children were eligible for free school meals because of rising poverty, it was even more important that school meals were of good quality and size.
"But teachers are raising issues about the quantity of the food that children get, about the choice and the quality. Some teachers are saying that children don't get enough food," she said.
"I think it's absolutely the case that children are going hungry and we all know what hunger does to young people's ability to learn."
Dr Bousted also called for more inspection of catering services to ensure that meals were of a good standard and size.
But about one in 10 respondents said pupils on free school meals did not actually eat school food, with 44% saying their children did not like them and 41% saying their children preferred to bring their own.
Chips and pasta
On quality, one primary school teacher said: "There are times that meals are good but others when they are most unappetising. There are occasions when the portion size is very small and there have been times when portions have run out."
A secondary teacher said: "There seems to be a lot of carbohydrates on offer each day. There are usually chips, pasta and rice available, while vegetables and salad don't seem to be on offer. As the meals are cooked in-house, the choice is limited to what our cook is able to make in large quantities."
On cost, 60% said the price of meals charged to students in their school or college were value for money but about a third (34%) did not.
One reception teacher, from Bradford, said: "The younger children pay the same price but get much less [food] than the older ones. Also they do not get the choice as this is also saved for the older ones."
Another member working in the early years sector echoed this sentiment, saying: "The young children often get very small portions and very limited choice. Children who come with packed lunches eat a lot more at lunchtime."
One teacher from Forest Hill Primary School, Kim Knappett, told the conference that many children would go hungry during the Easter holidays.
She said parents who had as little as one pound to spend on food were not spending it on items of nutritional value but often spent it on chips or doughnuts.
School projects manager at the Jamie Oliver Foundation, Michelle Smith, said many studies had proved that a nutritious lunch was vital for a child's concentration, behaviour and chance of achieving.
A School Food Trust spokesman said: "School meals need to be affordable for families. Our research proves that school food is particularly sensitive to changes in price and in these tough financial times, access to decent food at school for children has never been so important. Schools need support to build their market, run their catering efficiently and to deal with rising costs.
"Every child's appetite is different so portion sizes aren't set nationally - but cooks do get to know their pupils, and should make sure they are getting a portion that's approriate for them."