Exam pressure 'undermining teacher's integrity'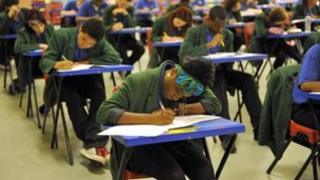 Some teachers' professional integrity is being undermined by the pressure to get good exam results, a union says.
The Association of Teachers and Lecturers says teachers have been forced to "manipulate results" and even "re-write students' work" to boost results.
A snapshot survey of ATL members found a third felt their integrity was being compromised by what was asked of them.
ATL head Dr Mary Bousted said results seemed to be more valued than learning.
The union carried out research with 512 of its teacher members working in state schools in England, Wales and Northern Ireland.
It said teachers felt under increasing pressure to get pupils through tests and exams.
About two-thirds of those surveyed were supplying pupils with more practice tests and running after-school classes or one-to-one classes.
A third said they had helped pupils prepare by attending meetings to find out "exam themes".
A quarter of teachers felt obliged to attend exam board seminars to help their pupils get ahead.
And some 35% said the pressure they were under could compromise their professional integrity.
'Impossible'
One teacher at a primary school in England said: "I have been forced to manipulate results so that levels of progress stay up, as our head fears [there will be] an Ofsted inspection should our results waver.
"I work in an infant school."
Another at an English secondary school said: "The school I work at definitely pushes the boundaries of exam integrity.
"Maintaining their "gold-plated" status by far takes precedence over developing the abilities of the pupils."
He added: "Controlled assessments and aspects of coursework are problem areas for cheating, with senior leadership driving the agenda."
And a third, a teacher in a grammar school in Northern Ireland, said: "In some cases I end up virtually rewriting my students' homework to match the marking criteria, rather than teach them my subject, French. I do this because there is simply not time to do both!"
A Department for Education spokesman said: "There is absolutely no excuse for teachers cheating.
"Parents will be absolutely outraged to hear anyone admit they've manipulated test scores. It undermines other staff, damages children's education and risks destroying the public's faith in the profession."
'Failures'
Others focused on the stress on pupils. There appeared to be a consensus among teachers that the pressure was damaging for pupils as well.
Nine out of 10 teachers surveyed said they felt tests and exams were the biggest source of pressure on pupils and young people, causing increased anxiety for them.
One teacher from an English primary school said: "I fear we are switching a great many pupils off before they have even left primary school!"
Dr Bousted said children in the UK were among the most tested in the world.
"This creates a huge pressure on young people, with many whose progress has been outstanding on a personal or emotional level feeling like failures following test and exam results.
"With the government's persistent focus on tests, exam results and league tables, many teachers and lecturers also feel under enormous pressure - often at the detriment to high quality teaching, learning and development of their pupils."
She called for the government to look again at its test and exams regime.