Academies 'making limited use of independence'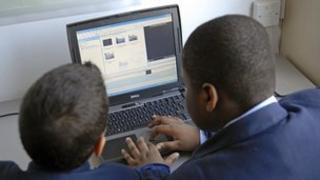 Academies - soon to be a majority of secondary schools in England - are showing more signs of continuity than radical upheaval, suggests a survey.
The Reform think tank and Schools Network found that almost all these independent state schools had kept their links with other local schools.
It found the biggest motivation for becoming an academy had been financial.
Report author Dale Bassett said it showed it was a "myth" that academies would break up state education.
But the Anti-Academies Alliance attacked the report as "partial and selective", and said the expansion of academies was driven by "narrow ideology" rather than evidence of school improvement.
'Evolution, not revolution'
The study suggests that despite the expectation of innovation and experiment, the rapidly growing number of academies are not rushing to make changes.
Even though they have flexibility over the curriculum, the length of the school day and the school year, only a minority have made substantial changes.
And many of these options - such as changing the school day - are in practice available to schools whether or not they become academies.
Mr Bassett, research director at Reform, said the big picture was much more of "evolution than revolution".
These schools, once an experimental minority, will in the coming months become a majority in the secondary sector, and this survey suggests that many schools are broadly continuing as before, including their amicable links with local authorities.
The biggest incentive to become an academy, cited by almost 80% of schools, was to get extra money, in a survey which had responses from about a third of academies across England.
Only 29% said that becoming an academy was because parents, governors or staff "were keen". An even smaller number, 22%, identified flexibility over pay and conditions as an incentive.
The prospect of greater autonomy was cited by 73% of schools, but in practice so far there has been only a "relatively minor" use of this flexibility in areas such as the curriculum.
How much flexibility?
Mr Bassett said the findings suggested that "changing the plaque over the door" to show a school was now an academy was not going to be enough to trigger a wave of innovation.
And he said the results so far "explode the myth of anti-academy campaigners that academies would lead to the disintegration of the state education system".
He argued there were substantial constraints on individual schools changing - such as a large majority of schools planning to retain national arrangements for pay and conditions.
In the survey, the biggest reason cited by schools for not "using their freedoms" was that national pay deals made it "culturally difficult". But the next biggest reason was that schools had no interest or desire to change such national settlements.
Another reason for schools being reluctant to experiment - suggested in the free text responses to this survey - was that there were so many other policies that made school leaders highly risk-averse.
They questioned how much flexibility was a reality when league tables, the introduction of the English Baccalaureate and the shifting expectations of Ofsted determined how schools were required to behave.
Mr Bassett said the survey raised the question of how much school autonomy, applauded in theory, would be allowed in practice.
"Are we genuinely saying that we want autonomy?" he asked, calling on ministers to "strengthen the freedoms provided to academies and other schools".
'Forced' academies
Martin Johnson, deputy general secretary of the ATL teachers' union, said: "This report confirms that few academy heads have really been driven by some grand idea of the virtues of greater independence.
"They've done it for the money. When the cash bribe dries up in 2013, no doubt we shall see an expansion of the government's programme to force schools to convert."
This highlights the increasingly bitter local battles over "forced academisation" where some struggling primary schools have been compulsorily turned into academies, despite the opposition of governors and protests by parents.
There have been accusations of a lack of democratic accountability over the chains of providers which have taken over academies - and claims that they are a stepping stone towards privatisation.
The National Union of Teachers, responding to the survey, challenged whether this process was about autonomy or concentrating power in Whitehall.
"It is one of the great contradictions of the academy programme that while it is asserted they will be free of central government control, in fact they are answerable directly to the education secretary," said the union's general secretary, Christine Blower.
"Most of the so-called innovative practices being carried out by the academies quoted in the report are already available to all schools - as many of the school leaders surveyed acknowledge."
A Department for Education spokeswoman said: "This survey backs up what head teachers have been telling us - that academy status frees them to get on with raising standards without interference from local or national politicians."