Plan to change university admissions timetable ditched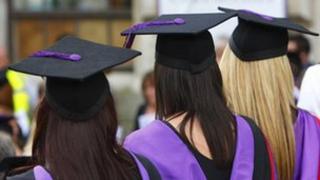 Plans to allow students to make their university applications after they have received their A-level grades have been abandoned.
The Ucas admissions service said the proposals, which had been hailed as a step towards a fairer system, faced "insurmountable difficulties".
University groups welcomed the ditching of the plans, saying it would leave them more time to assess candidates.
But the National Union of Students warned of a "missed opportunity".
Instead there is a recommendation from Ucas for improvements to the clearing process, which matches students and empty places at the end of the application cycle.
There are plans for clearing to become a "fair, managed, online process".
Places scramble
Ucas chief Mary Curnock Cook said that clearing had grown up as an informal system, but now needed to cater for 50,000 students each year and should be more "fair and transparent".
The admissions service wants to have a more structured process with clearer information about the options available - and less of a scramble for places.
It could mean creating a gap between exam results and a later date when the remaining places would be allocated.
But once again proposals to allow students to apply after they know their exam grades - the so-called "post-qualification application" system - have been blocked.
Universities have remained opposed to a reform that has been promised over several years as a key way to improve the fairness of applications.
The major review of admissions under the previous government concluded that the current system, based on predicted grades, worked to the advantage of confident, wealthier applications.
It argued that it would be much more of a level playing field for state school pupils if admissions were based on actual grades.
A more recent study from the University of Warwick found that applying before A-level grades were known was "unfair and inefficient".
And last autumn, Ucas set out its own proposals to allow students to apply after they knew their results - described at the time as the biggest shake-up in the admissions system for half a century.
But the response from universities showed little enthusiasm for such a radical change.
'Grasp the nettle'
Ucas says that while in principle "applying with known qualifications' grades represents a logical and desirable goal" - in practice it does not believe that it is practical to implement.
"It simply would not be feasible to shoe-horn a post-results model into the current academic year," says the review.
There were concerns that universities would not have sufficient time to consider applicants and that different exam timetables across the UK would not be compatible with a compressed timetable.
There were also worries that the admissions process would become too "mechanistic", relying simply on exam results and a "less holistic assessment".
The Russell Group of leading universities said that it would be the most disadvantaged pupils who would lose out from a change to the system.
The current system was also defended by the 1994 Group for allowing "institutions to develop relationships with prospective students, helping to support them through the process".
Pam Tatlow, chief executive of the university think-tank Million+, said the priority should be to create a clearing service that could cope with peak demand.
And she said the plans for a post-results application system were "not well thought through" and failed to recognise the diversity of applicants who did not have A-levels as their entry qualifications.
But Liam Burns, president of the National Union of Students, said: "This is yet another missed opportunity to grasp the nettle and demonstrate a sustained commitment to post-qualification admission, which is a fairer way for students to apply to university."
But the NUS leader said he would support proposals which would reduce the "annual chaos and stress" of the clearing process.
Universities Minister David Willetts also backed the need for a more coherent approach to the clearing system.
"The proposals to replace clearing with a fairer and better-managed process mark a significant change to the most fraught part of the applications cycle and will be a very welcome innovation for applicants," said Mr Willetts.