Schools should be fined for illiteracy, says riot panel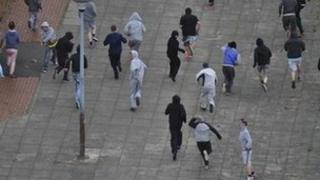 Schools in England should be fined if pupils leave school with poor literacy skills, an independent report into last year's riots says.
It adds they should demonstrate how they are building pupils' characters, and give careers advice to each child.
In its final report into disturbances, the Riots, Communities and Victims Panel puts schools firmly in the spotlight for preventing future riots.
But head teachers have dismissed the recommendations as unrealistic.
The final report by the panel says a lack of support and opportunities for young people contributed to the outbreak of riots across England last summer.
It also cites poor parenting, an inability to prevent reoffending, too much emphasis on materialism and a lack of confidence in the police.
'Right choices'
But it also puts much responsibility at the doors of schools and their leaders.
The key to avoiding future riots, the report claims, is communities "where parents and schools ensure children develop the values, skills and characters to make the right choices at crucial moments".
It says: "We propose that there should be a new requirement for schools to develop and publish their policies on building character.
"We also recommend that Ofsted undertake a thematic review of character building in schools.
"To inform interventions tailored to individual pupils' needs, the panel recommends primary and secondary schools should undertake regular assessments of pupils' strength of character."
The report also highlights poor literacy skills among young people, saying schools should be fined if they fail to deliver.
"We recommend that schools failing to raise the literacy rate of a child to an age appropriate standard should cover the financial cost of raising their attainment," it says.
The panel also expresses concern that many young people leave school not ready for work.
"We recommend schools develop and publish a careers support guarantee, setting out what a child can expect in terms of advice, guidance, contact with businesses and work experience options."
Schools should also "publish more of their data to ensure they take steps to use exclusion as a last resort and transfer pupils to quality alternative provision".
'Unrealistic'
But Brian Lightman, general secretary of the Association of School and College Leaders, said many of the recommendations did not recognise what was already going on in schools.
"We are very disappointed that the panel has come up with such an unrealistic set of recommendations," he said.
"Schools have always seen building character as a major priority - the requirement to publish policies on this would be an additional bureaucratic requirement which would distract schools from their front line duties.
"And the recommendation to assess strength of character raises all sorts of questions about how that should be done."
Mr Lightman also said fining schools when pupils did not reach an age appropriate standard of literacy would reduce their capacity to provide the necessary support for these pupils.
And Russell Hobby, general secretary of the National Association of Head Teachers, said such a measure would punish other pupils at the school.
Mr Russell said the report was wrong to single out schools.
"I think school leaders will react with frustration and dismay with the tone that's being taken," he said.
Christine Blower, general secretary of the National Union of Teachers, said: "While many teachers are only too aware of the social problems and all too often grinding poverty that some of their pupils face, it has to be remembered that the key task of teachers is to teach.
"The problems that stem from poor housing, joblessness and poverty in all its forms cannot be for schools to solve."