Schools could be hit by industrial action over pay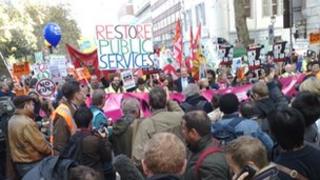 UK schools could be hit be a fresh wave of industrial action in a dispute over the planned break-up of national pay bargaining for teachers.
Association of Teachers and Lecturers head Dr Mary Bousted predicted attempts to bring in differential pay for teachers could lead to further action.
The government is looking at introducing "market-facing" pay for public sector staff.
ATL members went on strike last year over pensions.
Last month, Education Secretary Michael Gove wrote to the School Teachers Review Body, which helps set teachers' pay in England, saying he wanted pay levels to be freer and more flexible.
'Local rates'
He also asked for the body to look at how it could make teachers' pay more "market-facing" - responsive to local conditions.
And last week Chancellor George Osborne confirmed in his Budget statement that he wants to see public sector pay "more responsive to local pay rates".
He sent evidence to pay review bodies to make the case for moving to local pay rates.
The document suggests a pay "premium" and that the public sector "pays more than is necessary" to recruit, retain and motivate staff.
It goes on to say: "The evidence suggests that the quality of public services would directly benefit if public sector pay became more responsive to local labour markets."
Dr Bousted said: "What we are aiming for, what we hope will be approved, is some sort of pay banding system, rather than an all-out free for all in each school.
"If it's school-by-school, a complete break-up of national pay and conditions, then I think that would be a focus for industrial action by our union."
She added that potential strikes were a long way off but was adamant that government plans to break up national pay for public sector workers were likely to be the "next stage" of teaching unions' dispute with ministers.
She said she understood the need for those working in London to be paid extra but that for those in many areas of the country, it would mean a pay cut.
Her union's annual conference in Manchester next week is set to hear calls for members to "robustly defend national pay structures for teachers and lecturers".
She said: "This government's message to the profession is calamitous. It's saying we don't care about your workload, we don't care about your mental health and we are going to cut your pay or freeze it further.
"There's a possibility of teachers in the north-east of England having their pay freeze for years and years and years and this is at a time when applications to teacher training have dropped."
The Department for Education said it was "well off making final decisions on this - so it's far too premature to talk about industrial action".
It added: "We've asked the independent experts, the STRB, to look at all the evidence for and against making pay better reflect local job markets - as the private sector does.
"We've specifically asked how any changes would work; how it could still keep quality of teachers and new recruits high; and whether it would apply to existing teachers or just to new entrants.
"We will look very carefully at what the STRB reports to us in the autumn and consult with the profession in detail."