Schools 'too often asked to make up for wider failings'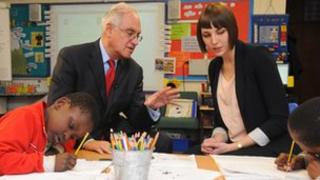 Schools are too often asked to make up for wider failings in families and communities, the Chief Inspector of Schools, Sir Michael Wilshaw has said.
"Schools can step into the vacuum, setting good examples where few exist at home," he said.
He told the annual conference of the Association of School and College Leaders that schools' moral purpose had never been more important.
But, he said, all was not wonderful in the garden.
Sir Michael was speaking on the first day of the Birmingham conference.
'Lonely job'
The association's leadership has already complained that its members are demoralised with around half considering leaving the profession.
In his speech he said: "So much is expected of school and college leaders. Believe me, I know from my own experience what a tough job it is; and how leadership can be lonely, daunting and occasionally gut wrenchingly difficult. "
He echoed sentiments expressed by the ASCL general secretary, Brian Lightman, when he said: "It is also one of the best and most satisfying jobs in the world."
And said society should occasionally just stand back and reflect on whether it is giving enough support to our schools and their leaders.
Double standards
"A culture which is sometimes self obsessed and puts such emphasis on celebrity and instant gratification, doesn't necessarily foster in our young people the essential virtues of effort and diligence which are so fundamental to success at schools and colleges.
"Our youngsters are too often exposed to double standards, where bad behaviour and violence are publicly condemned but endlessly available as entertainment," he added.
He said this was not a counsel of despair but that schools in the most difficult circumstances often had no option but to be "surrogate parents" so that children can achieve.
He said he wanted Ofsted under his leadership to continue to help school leaders achieve better standards in schools.
"It is important we remember what it was like in the 70s and 80s before Ofsted when whole generations of children and young people were failed"
He said that many schools got away with "blue murder" during that era.
He added that changes in the Ofsted framework would not be brought in without considering the views of head teachers and invited heads to contribute to the ongoing consultation.
However many of the audience of head teachers were sceptical.
Graham Bett, a head teacher from Leicestershire said the cumulative effect of the chief inspector's comments in the media in previous weeks had amounted to a "corrosive negative rhetoric".
And Carol Buchanan, of Cardinal Newman Catholic School, in Coventry accused Ofsted of engendering a climate of fear, being inconsistent on the ground and failing to appreciate any teaching methods that did not fit a recognised pattern.