ASCL says opening free schools may be waste of money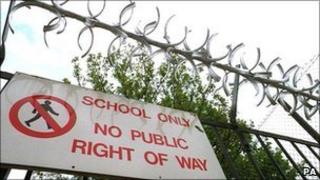 Opening free schools in England where they are not needed is a "shameful" waste of taxpayers' money, the leader of a head teachers' union has said.
In a speech on Saturday, Brian Lightman of the Association of School and College Leaders, also said free schools might damage existing schools.
"Such experimentation is deeply and unequivocally immoral," he told heads.
A government spokesman said free schools would give parents more choice of schooling for their children.
Free schools are funded from the public education budget, like other state schools, on a per-pupil basis.
However, they are run independently from local authority control by not-for-profit trusts, which can buy in private sector services.
In a speech to the union's annual conference, Mr Lightman said: "ASCL has no objection to new schools opening in areas where there is a shortage of school places but we cannot condone the creation of costly surplus places when other services are being cut."
The union suggests that free schools planned for Suffolk, Essex, Bristol and Teesside are all in areas where there are already surplus places. It is also concerned that free schools may receive more generous funding than other schools and accuses the government of being opaque when it comes to free school budgets.
Mr Lightman called on the government to publish spending figures for the next three years for each new free school.
'Downward spiral'
He said he wanted parents to be able to see how these figures compared with funding for other schools in their neighbourhoods.
And he suggested other nearby schools could be thrown into a downward spiral because of falling pupil numbers and lack of investment.
"Children are not guinea pigs in some educational lab. Schools that have been consigned to the dustbin of our education service in this way cannot be expected to create the conditions which enable them to raise standards.
"No-one in government should be contemplating standing by and watching as some schools fail in order to use it as a lever of change," he said.
Failing system
In a statement, the Department for Education (DfE) said: "We cannot continue with a system where thousands of parents are forced to send their child to a school that is either weak or simply isn't right for them.
"Our school reforms will help put this right by creating a system that works for - not against - parents, many of whom live in the poorest parts of the country."
The DfE said that free schools would cost a fraction of schools built under Labour's Building Schools for the Future programme.
Rachel Wolf, the director of the New Schools Network, which advises groups wishing to set up free schools, said what would be immoral would be to leave the school system in England as it was, because it was "letting down parents across the country".
"Most teachers care about pupils not politics and free schools gives them an opportunity to focus on what matters. Thousands of parents and teachers have supported Free Schools because they believe that every child - not just the wealthy - should be able to go to a good local school," she said.
"We need to stop defending the status quo and offer children something better."