Secondary heads 'have to walk on water''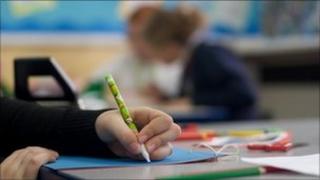 Secondary head teachers are "expected to be able to walk on water" the demands on them are so high, school leaders have heard.
President of the Association of School and College Leaders Joan McVittie told her union's annual conference that pressure on heads is so great that many may leave the profession.
Ms McVittie said expectations of heads had never been higher.
The Department for Education said the vast majority of heads did a good job.
Ms McVittie told the conference in Birmingham that heads were required to be moral leaders, risk takers, media experts, creative accountants, prophets and networkers.
They were also expected to have an overview of the system and all the time were faced with an "apparently endless volley of criticism" from government.
'Values'
Earlier she told journalists that heads were also leading schools that were the last bastion of "old fashioned values and discipline", teaching children "rational and restrained ways of dealing with conflict".
Secondary school staff were increasingly having to become role models for pupils who were often more influenced by what they saw on television than their parents, she said.
In the area of London where she is head, four fifths of pupils have English as an additional language and different ways of settling disputes.
Brian Lightman, general secretary of ASCL, added that instilling these values into pupils was part of a hidden curriculum which was vitally important in terms of their employability.
But a survey for ASCL and the Times Educational Supplement (TES), has suggested that more than 90% of heads thought the government did not recognise the work they did, and was not supportive of the teaching profession.
The figures also indicated that over half of heads were considering quitting because of "toxic rhetoric" from the government.
Mr Lightman said heads felt angry, frustrated and on the verge of being bullied.
The survey also showed more than 60% of 1,800 heads questioned earlier this month felt government policies were having a detrimental effect on their pupils' education.
A new low
The union said the figures showed morale amongst secondary school leaders had reached a new low, with half of those surveyed saying they would not recommend headship to a colleague.
More than a third were actively looking to quit now, it added.
And more than three quarters of deputy and assistant heads said they were less likely to go for headship.
A spokesman for the Department for Education said it could not ignore concerns about standards.
"We have slipped down the international performance tables and we must rectify this.
"We know that the vast majority of heads are doing a good job, often in challenging circumstances. We're undertaking a major reform programme and their skills and experience are vital."
The spokesman added that government reforms would give heads more control over teaching, pupil development and discipline and less paperwork.