Strike pledge over school summer holiday and term changes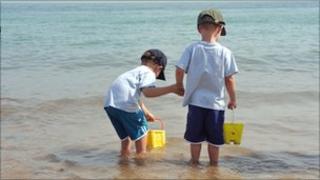 Attempts to shorten school summer holidays and change terms in England could lead to more regional strike action by teachers.
National Union of Teachers members in Nottingham City plan to strike over the issue next Thursday and have asked NUT conference delegates to back them.
Nottingham City Council is planning to move schools to a five-term year with shorter summer holidays.
It says over the long break pupils can forget some of what they have learned.
With holiday prices rising dramatically in the summer, it says the changes could also help families get away outside the peak season.
Most state schools in England have three long terms with holidays at Christmas, Easter and in the summer, as well as half-term breaks. The summer break is typically five or six weeks long.
The plan for Nottingham is that from 2013, children would return to school in late August after a month-long break and then have a two-week break in the autumn, at Christmas, in spring and in late May.
There would be a long weekend break at Easter when this fell outside of the fixed spring break.
However, Nottinghamshire County Council is against making a similar change, meaning families in the area might have children with different holidays. It isconsultingon the issue.
Longer hours fear
Under Labour, there was much discussion about schools changing their terms to this model.
And now, under the coalition's academy programme, schools or groups of schools will have more freedom to vary their days and terms.
At its annual conference this Easter, NUT delegates will be asked to back a motion put forward by Nottinghamshire delegates which calls for "appropriate industrial action up to and including strike action" where "negotiations to resist imposed changes have failed".
The motion says the union is concerned that if the school day and year are extended, teachers may be expected to work longer hours for no extra pay.
It says the government wants to lengthen the school year and the school day, and adds that teachers need a long summer break to recharge their batteries.
"Conference is well aware of the long hours already worked by teachers and the essential need for a period of genuine rest and recuperation only found by many in the long summer break," it says.
But any action would only take place where there were plans to make such changes.
Travel industry
At a media conference on Thursday, the general secretary of the National Union of Teachers Christine Blower said: "Teachers and pupils in England and Wales already spend longer in the classroom than others.
"One of the things Unicef finds is that children in the UK are the most unhappy children in the world. That isn't because they want to be in the classroom for longer."
She added that she did not think holiday companies would cut the price of summer holidays if terms changed.
"I have no confidence that the travel industry would respond in a philanthropic way," she said.
The government wants schools to have freedom over when they are open. Some of the new academies and free schools are running classes on Saturdays and have made changes to the school day - such as beginning lessons earlier or finishing later.
Ministers are also concerned about parents taking their children out of school during term-time, saying this can damage a child's education and leave them struggling to catch up.
A spokeswoman for the Department for Education said it was down to schools and local authorities to decide their own term dates and holidays - not government.
"The education profession and academics have been debating this issue for years. There is an age-old problem of pupils falling back over the holidays because we've got a school year designed for children in the 1900s.
"It's right that schools draw up term times in the best interests of their pupils. Creating four, five or six- term school years is not easy. Heads need to make sure it doesn't penalise families with children in different schools and get teachers on board."
Next Wednesday NUT members in London are to strike over pension changes.