Secondary school admissions: One in seven miss first choice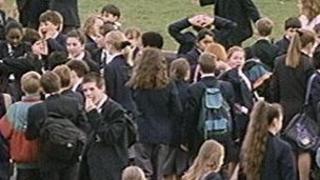 About one in seven pupils in England have not got into their first-choice secondary school, official data shows.
The latest government statistics reveal that 74,000 - or 14.7% - of 11-year-olds failed to get a place in their preferred school.
Overall, 4.1% did not get an offer from any of their top three schools.
Schools Minister Nick Gibb said the figures were better than last year, but 74,000 pupils missing out on their chosen school was still too many.
Last year one in six children did not get into their first choice of secondary school, rising to one in three in London.
This year, secondary school offers were made to more than half a million children by 151 local authorities in England.
The improvement in the number of pupils getting a place in their chosen secondary school coincides with a drop in the number of children applying for places.
Best chance
This year about 8,500 fewer children applied for a place at secondary school compared with 2011, though the total number of places available remained broadly the same.
Children in the north-east of England have the best chance of getting into their top choice, with 95.1% succeeding.
In London that figure is only 67.2% - though there has been a slight improvement in the past year.
Mr Gibb said: "I am pleased that year-on-year, more pupils are being offered a place at their preferred school. Unfortunately, whilst progress is being made, we are still some way short of making this a reality for all pupils."
He added that the slimmed-down version of the schools admissions code which came into force earlier this year would make it easier for the best schools to create more places.
Shadow Education Secretary Stephen Twigg said: "Parents will be worried that increasing pressure on school places, the fact that the government is not prioritising real need, and there is no plan to raise standards in all schools will only make this situation worse.
"The government must prioritise the majority of schools in England, not just a few pet projects."
In general, most schools allocate places on the basis of distance from home, and whether a child has siblings there already.
Faith schools are allowed to select on the basis of religion.