Cambridge protest planned for suspended student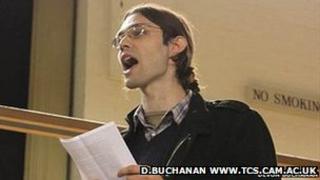 Students and staff at Cambridge University are to demonstrate against the suspension of a student for his part in a protest last November.
Owen Holland was suspended from the university for two-and-a-half years for reading out a poem during a speech by Universities Minister David Willetts.
The university's disciplinary authority took the decision after a six-hour hearing on Wednesday.
Supporters of Mr Holland described the sentence as disproportionate.
The protest, against plans to raise student fees, cut short a planned speech by Mr Willetts in one of the university's lecture halls.
Mr Holland read out a poem which was repeated back by other protesters.
Eventually Mr Willetts left without delivering the speech.
When Mr Holland was first charged with impeding the minister's freedom of speech, more than 60 other staff and students wrote to the university authorities admitting their role in the protest and demanding that they be be charged with the same offence.
'Singled out'
Cambridge University Students Union has called for the sentence to be quashed.
Liam Burns, President of the National Union of Students, said: "When no laws are broken there is no reason for such a disproportionate punishment.
"It is clear that this decision has unfairly singled out an individual to make an example of."
Mr Holland has 28 days to appeal.
Salima Mawji, an expert in education law, suggested a legal challenge to the suspension could be made on the grounds that the authorities appeared to have ignored admissions to alleged disciplinary offences by other students.
Ms Mawji asked: "Why was Mr Holland the only member of the student body to be singled out and punished despite open admissions by other students?"
The protest outside the University of Cambridge Old Schools building is due to start at 13:00 GMT on Friday and is expected to include students, staff and lecturers.