Raise teacher status to improve schools, says OECD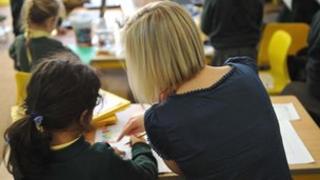 Teaching must be made more attractive for the brightest students, says a report from the Organisation for Economic Co-operation and Development.
Report author Andreas Schleicher says teachers need to be given "status, pay and professional autonomy".
The international report identifies the quality of teachers as the key to raising education standards.
The most successful systems, such as Finland and Singapore, recruit high-achieving students, says the report.
The report is being published at an international summit on the teaching profession, held in New York and arranged by the Organisation for Economic Co-operation and Development (OECD) and the US Education Department.
'Knowledge workers'
Mr Schleicher, the OECD's special adviser on education, argues in his report that if school systems want to be competitive they need to recruit and reward the right type of staff.
He says that a modern economy needs teachers who are "high-level knowledge workers" - able to support the learning of children in a digital age.
Where children can access facts and information through Google, he says, there is now a need for a different and more versatile kind of teacher.
"But people who see themselves as knowledge workers are not attracted by schools organised like an assembly line, with teachers working as interchangeable widgets in a bureaucratic command-and-control environment," says Mr Schleicher.
At present, teachers across the industrialised world are not receiving levels of pay that reflect their importance, says the report.
It highlights that the most successful countries for education are often those that deliberately recruit the best students into teaching.
It says that good levels of pay, progression and training are necessary to keep high quality teachers.
In Finland, a high social status is attached to teaching, making it very competitive, with nine out of 10 applicants for teacher training being turned away.
In Singapore, teachers are drawn from the top third of students and they are paid at levels competitive with other graduate careers.
Across the OECD, teachers on average are paid less well than other graduate professions - receiving about 80% of the average for workers with degrees.
The report says that teachers in England are paid at about this international average for teachers - better in relative terms than teachers in the US, but worse off than in Scotland, France, Germany, Spain, South Korea and Finland.
The report also warns that a failure to recruit staff in some subjects, such as science and maths, can damage countries' efforts to raise standards.
Chris Keates, leader of the NASUWT teachers' union, said: "The teaching profession is constantly evolving and adapting to reflect changing circumstances and this summit is an opportunity to share the best practice that exists across the highest-performing education nations in the world.
"Teachers and school leaders in the UK are rightly helping to lead this debate."