Local authorities to have scorecards for adoption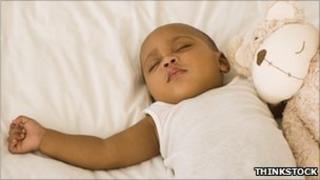 Local authorities are to be issued scorecards to measure how quickly they place children for adoption.
Under a new government action plan for adoption in England, potential adopters will have to be assessed within six months, and bureaucracy cut.
But council leaders warn scorecards could see more focus put on the speed of a placement rather than its quality.
Prime Minister David Cameron has said the plan will tackle "absurd barriers to mixed-race adoption".
The aim of the new adoption plan is to speed up the system so new families are found for children who need them as soon as possible.
Adopters will have to be approved within six months, with two months spent on training and four months spent assessing them and matching them with a child.
This will mean cutting some of the 140 pages of assessments that currently exist.
Scorecards will keep a check on how local authorities are doing, measuring such things as how long a child is in care before a family is found or the length of time it takes to approve an adopter.
Last year, 3,050 children were found new homes through adoption.
Statutory guidance says a placement should be made within 12 months of the decision to place a child for adoption, but the average time between a child entering care and moving in with their adoptive family is a year and nine months.
Education Secretary Michael Gove said local authorities must be held to account over adoptions.
"I believe scorecards will shine a light on which authorities are doing well and which ones need to improve. Local authorities should be in no doubt that we expect to see improvements in the coming months.
"Quality placements are of paramount importance but there is no excuse for delay. We know that delay can be deeply damaging, and every year a child waits there is less chance of being adopted.
"Our action plan sets out how we will speed up the process for the child, prospective adopters and make sure that local authorities find families faster."
'Speed not quality'
But David Simmonds, chairman of the Local Government Association's Children and Young People Board, said children in care and adopters should not be viewed as a commodity to be processed as fast as possible.
"While councils are rightly keen to reduce delays in matching children in their care to loving families, the government's scorecard system risks shifting focus from the quality of placements onto just the speed of placements.
"Placements driven by government targets rather than the needs of a child could also be at greater risk of breaking down.
"The scorecards are unlikely to acknowledge the problems that councils face when trying to find homes for siblings, older children or those with health issues or disabilities."
Matt Dunkley, president of the Association of Directors of Children's Services, said: "It is not local authorities alone who help or hinder speedy adoptions and this action plan draws on reforms to social work practice, the courts and the National Adoption Register to identify and remove systematic barriers to finding adoptive homes quickly for those who need them most.
"Any attempts to improve performance of individual local authorities must take the performance of the wider system into account - without that, there is a limit to what local authorities can achieve."
Martin Narey, the government's adviser on adoption, said: "This is an important plan which when implemented - and I expect that to be swift - will effect a radical reform of adoption in England.
"I particularly welcome the approach to ethnicity and the long delays caused by current practice in seeking a perfect or partial ethnic match for an adopted child."
'Biggest challenge'
In a written statement to the House of Commons on Wednesday, Education Secretary Michael Gove said the action plan contained the "most urgent changes" needed to the adoption system, but that further proposals would be made in the summer "on other changes to the adoption system and wider reform to services for children in care".
The British Association for Adoption and Fostering has welcomed the action plan, adding that the system works well for many children and prospective adopters.
It says a large number of organisations are involved in the system.
In a statement, it said: "Our biggest challenge is to ensure that the adoption system works consistently well for children and adopters irrespective of where they live or which agency is involved or what stage they have reached in the adoption process."
A key issue, it says, is to recruit more adopters able to look after groups of brothers and sisters and children with special needs, who wait longest to find a permanent family.