Specialist language teachers 'urgently required'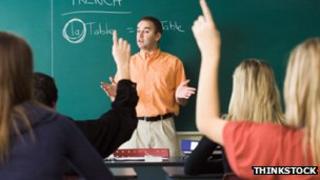 England's teacher training agency is urgently recruiting modern foreign language teachers to cope with a surge demand for the subject at GCSE.
The number of pupils set to sit language GCSEs next year has increased by 22% to 52%, it said.
The rise is thought to be tied to the English Baccalaureate, which requires GCSEs in language among other subjects.
The Training and Development Agency has a target to train up 1,575 language teachers this year.
The number of modern foreign language teachers has declined in recent years largely because of the fall in the number of pupils studying language GCSEs and A-levels.
This in turn has led to fewer students studying languages at university.
'Highflying teachers'
But the TDA says it has already received nearly 3,000 enquiries into teaching French, Spanish and German, which is close to last year's overall figure. And by February 845 had already formally applied.
However, it added: "Despite what looks to be a bumper year for enquiries into teaching languages, the growing interest amongst pupils means even more quality teachers are urgently needed.
"The new English Baccalaureate is having an immediate impact - hugely increasing the proportion of pupils taking the core academic subjects."
A new bursary of up to £20,000 is available for high-grade language graduates wanting to enter teacher training. This was designed to help meet the extra teaching needs created by the English Bacc.
TDA chief executive Stephen Hillier said the UK had lagged behind the rest of Europe in modern foreign languages for too long.
"With a renewed focus on engaging young people in languages from the government, we need the mind of highflying teachers who are going to help those pupils excel."
Targets
But despite the huge rise in the number of pupils expected to sit GCSEs this year and next, the government's set target is only 85 more than last year.
Russell Hobby, general secretary of the National Association of Head Teachers, said 85 extra teachers was not going to go a long way.
"People really struggle with recruiting language teachers, so it is a concern - particularly after a long period of time when modern foreign languages were in decline," said Mr Hobby.
"It can take years to re-staff your language faculty.
"It's one of those subject areas where you definitely need a qualification - it's one subject that you cannot fake."
The TDA said a target was the product of complex modelling which took into account a range of factors, including projected leaver numbers and people being re-deployed from other areas.
"There are believed to be a number of current teachers who are not teaching modern foreign languages but who are qualified to do so. This will have been taken into account in the new teacher requirements."
Professor John Howson, education data expert, said there were a lot of unemployed teachers on the market for work who had failed to get jobs in the recent past.
But it is not clear how many of these are likely to be language specialists.
However he said he would expect to see targets raised for language and other English Bacc subjects in the next few years.