Vice-chancellor warns over loss of student places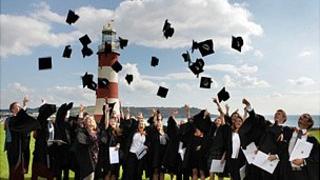 A vice-chancellor says her university stands to lose 10% of its undergraduate places despite a big increase in applications for courses there.
Plymouth Vice-Chancellor Prof Wendy Purcell has written to 20 MPs in south-west England saying hundreds of local students face disappointment due to higher education reforms.
She says disadvantaged students will be hit the hardest.
The government said it wanted to increase student choice.
It has introduced two new measures aimed at increasing competition between universities from 2012, when maximum fees will increase to £9,000 a year.
The first, known as core and margin, involves taking 9% of student places from all universities charging more than £6,000 a year and redistributing them to those charging lower fees or private providers.
'Increased demand'
Prof Purcell wrote: "For Plymouth this means that we shall lose 500 student places. In addition to this reduction in places, we also lose further places as a result of various [Hefce] adjustments and pro-rata reductions.
"As such we are at a material disadvantage of losing 868 student places. This is against a backdrop of increased student demand for the Plymouth experience with our undergraduate applications for 2012 entry increased by 6%."
She also sounds a warning over plans to allow universities to take unlimited numbers of students with at least two As and a B at A-level.
Prof Purcell says this policy will have a negative impact on many students from non-traditional backgrounds seeking places at her university.
A third of the university's 9,000 places are with partner colleges. Students start off studying a foundation degree at a local college, and then hopefully progress to an honours degree in their final year with Plymouth.
She wrote: "Last year the university had over 500 applications from pupils taught at schools in deprived areas of whom just two who went on to enrol fell in to the AAB+ category, the remainder of those potential students are competing for a significantly reduced number of reduced places at Plymouth University."
Student choice?
She says although the government says it wants to put "students at the heart of the system", there will be "many hundreds of local students planning to attend Plymouth University who will be refused a place".
And she warns the MPs that many students in their constituencies, who would have previously been successful in gaining a place at Plymouth, will be disappointed this year.
The vice-chancellor also criticised the preoccupation with increasing the number of disadvantaged pupils who study at Oxbridge. The issue has been highlighted repeatedly in speeches by government ministers.
She told the BBC that access to higher education was an important national issue tied to growing and sustaining our economy.
"It's far bigger than the focus on children who have had free school meals who go to Oxbridge."
'More diverse'
She called for a greater understanding of the role universities such as her own play in raising aspirations, transforming lives and educating students from non-traditional backgrounds.
A spokesman for the Department for Business, Innovation and Skills said: "Universities rightly control their own admissions processes and our higher education reforms put student choice at the heart of the system by freeing up places at the institutions where students wish to study."
He added that until now the number of places at each university has been set centrally, but that this was not in the interests of students.
"So, in 2012-13, one-quarter of all places will be freed from number controls, with greater liberalisation in later years.
"That means more diverse provision, more student choice and more accountable institutions."