School maths lessons: Pupils 'scared to ask for help'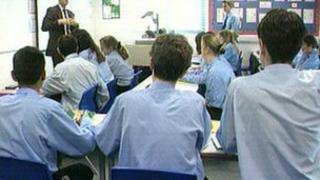 Secondary school pupils are so scared of looking stupid in maths lessons they will not tell their teachers if they do not understand, suggests research.
A survey of 1,000 10- to 16-year-olds found two-thirds would rather struggle alone or ask friends or family for help.
Half of the 15- and 16-year-olds felt they should already know the answer.
A government spokeswoman said plans to overhaul maths teaching would give children more confidence.
The reasons pupils gave for not asking for help more often were that they were worried about looking foolish, were embarrassed or did not want to draw attention to themselves.
Hands up
The survey suggests that older teenagers are more timid than younger pupils when it comes to answering questions in class.
Two-thirds of 10-year-olds said they were always happy to put their hands up, but this proportion was down to just over a third in the 16-year-olds.
Boys were more willing than girls to answer questions and were also more likely to describe themselves as very good at maths.
A minority of pupils were said they felt embarrassed or like swots because of their strong mathematical ability.
Peter Lacey, of the Association of Teachers of Mathematics, said schools should focus on developing pupils' confidence in mathematics slowly, rather than racing through concepts with undue haste and leaving some students behind.
"Confidence and competence go hand in hand. If you have a small mathematical toolkit and use it confidently you will be a more numerate person than someone with a large mathematical toolkit who doesn't know what to do with it," said Mr Lacey.
The research also included a questionnaire of 1,000 parents which suggested that about a fifth felt they did not have the maths skills to help their children.
Almost two-thirds of parents said they were not comfortable with some of the new mathematical methods now being taught in schools.
The survey of 1,000 10- to 16-year-olds was conducted online by researchers at Opinion Matters. It was funded by the children's newspaper First News and iTutor Maths, an online tutoring service.