School music lessons: Not enough music, says Ofsted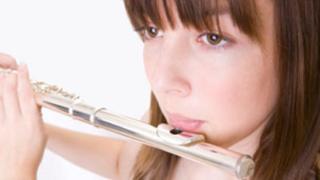 There is not enough music in music lessons in many schools in England, say Ofsted inspectors.
In some lessons, teachers do not play or sing a single note, according to a report looking at music education as a whole.
Inspectors found girls were twice as likely as boys to take part in extra-curricular music in primary schools.
The study was based on evidence from inspections of 90 primary and 90 secondary schools from 2008 to 2011.
Out of these, 68 were rated "outstanding" for music education and 41 were judged "inadequate".
In primary schools, one in three girls took part in extra music activities, compared with one in seven boys.
In secondary schools, 6% of pupils with special educational needs or disabilities had extra singing or instrument lessons, compared with 14% of other students.
Inspectors suggested there was too much music in one particular lesson they observed - saying pupils were attempting to sing a piece of music while also trying to play violins and cellos.
"Learning was not secure because there was too much for pupils to learn at once - notation, violin hold, bowing, names of the strings, and singing," the report said.
"Most pupils appeared to enjoy the activity, but the sound was dreadful."
Wide differences
Ofsted's chief inspector Sir Michael Wilshaw said: "Inspectors looking at music teaching in nearly 200 schools saw quality ranging from outstandingly good to extremely poor.
"Too often, inspectors simply did not see enough music in music lessons. Too much use was made of non-musical activities such as writing without any reference to musical sound.
"Too much time was spent talking about tasks without teachers actually demonstrating what was required musically, or allowing the pupils to get on with their music making."
A spokesman for the Department for Education said the government had published the first National Music Plan in November last year and this had addressed many of the issues raised by Ofsted.
"It ensures that in future every child has the chance to experience a high-quality music education and the opportunity to learn a musical instrument and sing," he said.
Deborah Annetts, chief executive of the Incorporated Society of Musicians, said this was a critical time for music education and that this "clear signal from Ofsted of how music education needs to improve" was welcome.
"All music educators and head teachers must work together to ensure that the use of technology in music is encouraged, and the striking inequalities in provision - particularly by gender - are tackled," she said.
"The real message here is for head teachers and music educators to engage with the ISM, as the professional association for music, and other bodies to ensure that their staff are able, and confident enough, to teach music to the highest standard."