Pay school governors - Ofsted chief Sir Michael Wilshaw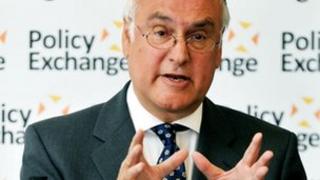 Governors of struggling schools in England should be paid, the new chief inspector of schools, Sir Michael Wilshaw, has said.
Speaking before a cross-party committee of MPs, Sir Michael said he wanted more focus on the governance of schools.
He also admitted that his eyes had "glazed over" when he started to read the Ofsted annual report, published last year before he took up his post.
Sir Michael promised to make next year's report "easier to read".
Stressing the need to address underperformance in schools, Sir Michael told the MPs on Wednesday: "I think we need to spend a lot more time on governance arrangements.
"When schools do poorly or badly, it's not just the issue of the school leader, the head and the school leadership team, it's the way the governors have held the leadership to account.
"I've already said our new inspection arrangements will focus much more on governance and the effectiveness of governance than ever before, and there will be a subsection under leadership and management to say important things about governance.
"My view is that when a school is doing poorly, we need to think about paid governance.
"And my view is if a school goes into a requirement to improve category, on the first occasion, the secretary of state should intervene and think about paid governance there."
'Not helpful'
However, his stance was not supported by the National Governors' Association.
A spokeswoman said: "NGA does not believe it would currently be helpful to offer payment to some or all school governors.
"But it supports further strengthening of arrangements to ensure proper payment of expenses, and time off with pay agreed with all employers to support governors in their valuable work.
"In the current financial climate, the NGA thinks that any additional money available for governance could be used in more effective ways, eg to fund training."
Sir Michael also said Ofsted's next annual report would be better presented.
"My eyes started to glaze over when I first read the annual report... But that is not to say there isn't a wealth of important information there on our inspection systems.
"I just think we need to present the data differently and the judgements differently, and I'm in discussion with the executive board at Ofsted about changing the format of the annual report to make it easier to read.
"And the narrative I think needs to be stronger - people need to know whether standards are improving or not, they need to have some context for that."
Variations in performance across the country - and in comparison with other countries - needed to be clearer, he said.
Sir Michael took up his post as head of Ofsted in January. He was formerly head of Mossbourne Academy in east London.