Attempts to get poor students to university 'failing'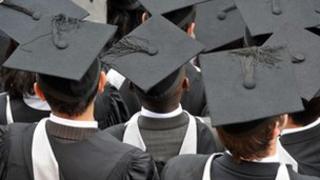 Attempts to encourage children from poorer homes to go to university have failed, according to a study.
The proportion of people from middle-class backgrounds with degrees has increased twice as fast as among less well-off groups, says the report.
The study found just a 5% increase in degrees among children of routine and manual workers.
Co-author Professor Peter Elias from, Warwick University, said some groups felt higher education was not relevant.
Researchers from the Institute of Social and Economic Research, analysed the social backgrounds of almost 34,000 adults, aged between 22 and 49.
The researchers divided them into two age groups. They found that among the older group about a quarter had a degree.
This proportion increased to about a third in the younger group.
But analysis of parents' occupations at age 14 showed that the increase in higher education was not evenly distributed among the social classes.
The research concluded that the increase in people going to university was largely due to rising numbers of students with parents who held white collar jobs.
The increase in degrees among those with parents in managerial or professional jobs was 10%, while among those with parents in teaching, nursing, administration or sales, it was 11%.
Professor Elias said: "The findings reflect in part the restructuring of the UK economy over the last 40 years, which has seen a decline in manual occupations and an increase in white-collar jobs."
The researchers also pointed out that some occupations that did not require a degree 20 or 30 years ago are now largely graduate jobs.
Cultural divide
The authors suggested a number of reasons why the numbers of working-class pupils going to university had failed to grow.
Professor Elias said the need for good A-levels deterred working-class pupils from trying for university.
He also said: "It's being unable to bridge a cultural divide between those people who feel it's not relevant and not something they want their child to get into, versus groups where there's been a real pickup in interest - the middle class, white collar workers.
"People, particularly parents, who are in jobs where they can see if they want them to get in, they're going to have to have a degree."
A spokeswoman for the Department for Business, Innovation and Skills said changes to university funding placed a premium on widening access.
"Institutions wanting to charge more than £6,000 will have to demonstrate annually the progress they are making to recruit more bright students from disadvantaged backgrounds.
"By 2015-16 there will be a 50% increase in the investment universities make under their access agreements.
"This includes investment in school and college outreach programmes, bursaries and scholarships, fee waivers, summer schools and other activities to widen participation," said the spokeswoman.