Oxford's £26m donation from Atlantic soul family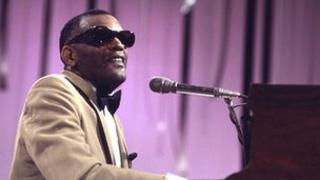 The Atlantic Records label - which released music from legends such as Aretha Franklin and Ray Charles - has created another legacy, in a £26m donation to Oxford University.
Mica Ertegun, widow of Atlantic founder Ahmet Ertegun, is giving the money for student scholarships in the humanities.
The funding will also pay for the refurbishment of a building which will become a base for these scholars.
This will be Oxford's biggest ever donation in the humanities.
In this collision of academic minds and American soul, Oxford University is to receive funding in perpetuity for 35 annual scholarships for postgraduate students in humanities subjects.
Oxford blues
The label founded by Ahmet Ertegun was responsible for classic records in the 1960s from performers such as Ray Charles, Otis Redding, Aretha Franklin, and Sam and Dave.
Later, there were later rock bands on the label such as Led Zeppelin, and band member John Paul Jones attended the announcement of the donation in London.
The rock legend praised Ahmet Ertegun, who died in 2006, as a "soul man".
He said Mr Ertegun had showed "passion, commitment and humanity... and the money couldn't have come from a better place".
Mr Jones, whose band wrote the classic Stairway to Heaven, obliged by standing on an ornamental stairway with Mica Ertegun.
Mrs Ertegun described her reasons for funding the humanities scholarships: "For Ahmet and for me, one of the great joys of life has been the study of history, music, languages, literature, art and archaeology.
"In these times, when there is so much strife in the world, I believe it is tremendously important to support those things that endure across time."
Funding worries
Turkish-born Ahmet Ertegun founded Atlantic Records in 1947, providing an early platform for jazz, soul and blues musicians, including John Coltrane, Leadbelly and Dizzy Gillespie.
This musical journey, from the sound of urban black America to stadium-fillers such as the Rolling Stones, has now reached Oxford University.
The fully-funded Oxford scholarships will be available to graduate applicants from anywhere in the world. They will include subjects such as literature, art, music, history and archaeology.
This Spinal Tap meets Brideshead launch event was held at the British Academy in London - and academy fellow Lord Bragg emphasised the importance of not allowing the humanities to be eclipsed by the sciences.
They represented an "enlarging awareness of what it is to be human", said Lord Bragg.
Lord Patten, Oxford's chancellor, said the university's status as one of the world's great universities meant that it was a worthy recipient of such extra funding.
He also highlighted the rumbling anxiety among universities about the funding of postgraduate education.
Lord Patten warned that while much of the headline-grabbing debate over universities had been about tuition fees and undergraduate funding, unresolved questions remained over funding postgraduate students.
The university's vice-chancellor, Andrew Hamilton, said: "The hard truth is that funding for graduate studies is now one of the biggest challenges facing research-intensive universities like Oxford."
The first scholarships are expected to be awarded for students this autumn.