National youth dance company in arts education review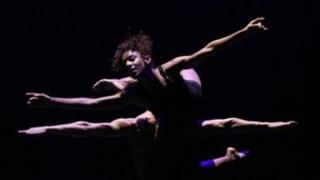 A national youth dance company is to be set up, in response to a review of cultural education in England.
But the government-commissioned review by Classic FM's Darren Henley found that cultural education was "patchy".
Mr Henley's report acknowledged that there was a "good deal of concern" about the future of arts subjects in the curriculum.
Education Secretary Michael Gove said high culture must not be "only for the privileged few".
The review also warned that an "overemphasis on repetitive and costly" criminal records checks could discourage the involvement of artists and musicians in supporting the arts in schools.
The review by Mr Henley, managing director of the Classic FM radio station, recommends that all children should have an entitlement to receive a set amount of cultural education during their years in school.
Dramatic differences
This would mean more exposure to subjects such as drama, arts, dance and music.
It calls for such subjects to have a better-protected role within the curriculum and for Ofsted inspectors to assess the cultural education that schools are offering.
The review says it wants drama and dance to be seen as subjects in their own right, rather than as subsidiaries to English and PE.
In order to nurture the next generation of arts professionals, the review calls for protected funding for "culturally-based conservatoires", where talented youngsters are able to train.
Among the recommendations is for a national youth dance company - and the government says that this will be created, with places for 30 teenagers each year.
Responding to the review, the Department for Education is also promising £395,000 over three years for art and design Saturday clubs.
It confirms plans already announced for a film academy, to be run by the British Film Institute.
The government is supporting the recommendation for a "national plan for cultural education", which would provide an "overarching strategy" for how pupils should be able to access such arts subjects while at school and beyond.
But the report highlights concerns that at present there is "a great deal of patchiness" in what is offered to pupils - and that such arts subjects could be further marginalised.
It highlights questions about how much cultural education is valued - saying that there has been unease at the absence of such cultural subjects from the English Baccalaureate.
"School will inevitably form the most significant part of a child's cultural education," said Mr Henley.
"This is particularly the case with children who come from the most deprived backgrounds. In these instances, many of their parents and carers may themselves not have been lucky enough to benefit from a wide-ranging cultural education," he said.
A strong cultural education in school was necessary "to bridge the divide", he said.
Mr Gove said that that not all schools and families gave children experience of a "full range of cultural subjects".
"Many children, especially poorer children, do not visit museums or art galleries, or go to concerts or the theatre, with their families.
"That is why we must strengthen what is offered in schools. Cultural education must not be a closed shop for poorer pupils."