Boys now reading as well as girls, study suggests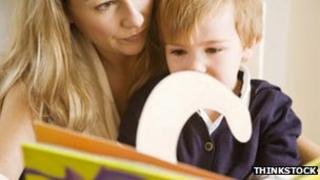 Boys appear to have caught up with girls on reading ability, research into what children are reading for pleasure suggests.
A study of which books more than 210,000 UK children are reading suggests boys no longer read at a lower level of difficulty than girls.
Concerns that boys lag behind girls has been frequently expressed.
Roald Dahl remains the most popular children's author.
He is closely followed by Roderick Hunt, author of the popular Magic Key series, which is part of the Oxford Reading Scheme.
Diary of a Wimpy Kid author Jeff Kinney and the creator of Horrid Henry Francesca Simon were also hugely popular.
The What Kids Are Reading study carried out by Dundee University's Prof Keith Topping, and funded by Renaissance Learning, uses computer software to analyse at what level of difficulty children are reading when they read for pleasure.
It focused on schools which use this software to direct children to appropriate books for their age.
It found that in four of the age groups, boys are reading tougher books than girls, while in three age groups girls are outperforming boys. They are reading at about the same level in a further two.
The authors suggest that teachers seem to be directing boys towards harder texts.
Prof Topping said: "My assumption is that this year boys are being especially encouraged to read harder books by their teachers.
"I find it difficult to see what else might be changing out there to account for this. This is of course extremely encouraging."
The study also suggested that some of the efforts to direct boys towards books which particularly interest them had paid off.
It found that where children were particularly interested, they were reading books far above their chronological age.
Prof Topping says: "In the first years children were reading very difficult books with a high degree of success - it is remarkable what reading motivating books does for children."
'Rewards'
Director of the National Literacy Trust Jonathan Douglas: "Reading for pleasure is again moving centre stage. Education policy since the 2010 election has focused on the mechanisms of learning to read, in particular the promotion of systematic synthetic phonics.
"Now politicians are increasingly identifying the importance of children's reading which engages their hearts, minds and imaginations in a way in which nothing else can."
Schools minister Nick Gibb said: "Schools and parents both have an important part to play in introducing children to ever more challenging novels.
"I firmly believe that once children experience the rewards of reading a wide range of books they will go on to develop a lifelong love of reading."