Care children given 'little notice of placement moves'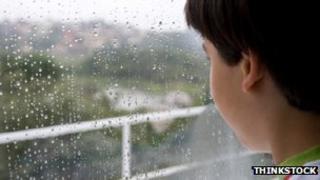 More than half of children in care are given a week's notice or less of being moved to another foster home, research suggests.
Nearly a quarter are given no notice at all, suggests the survey of 2,000 children for England's Children's Rights Director Roger Morgan.
Three-quarters of those in care with siblings reported they had been separated into different placements.
Ministers say they want to improve the experiences of children in care.
The figures come from the annual Children's Care Monitor, which gives an insight into children's experiences of the care system and is published by Mr Morgan.
'Disruption'
It suggests little consideration is given to children's feelings when they are switched between placements.
More than half (57%) say they were given no choice of placement the last time they were moved.
And the average number of times children move between foster homes or other care placements has risen from four in 2010 to five in 2011.
Mr Morgan said: "Moving homes can sometimes create a great deal of disruption so it is worrying that so many children are reporting that they were given little or no notice before moving placements.
"It is also worrying to learn there was little choice of placements in which to move.
"The continued high rate of separation of siblings in different placements in care remains a major concern to children."
However, he pointed out that 89% of children in care in the 2011 monitor survey rated their overall care as good or very good.
Adoption plan
Children's Minister Tim Loughton said: "I am concerned that children in care too often face multiple placement moves, leading to instability and upheaval.
"We must do better and this government is committed to overhauling the care and adoption system to improve life chances for these vulnerable children and young people.
"Protecting them and making sure they get the start in life they deserve must be a top priority for all local authorities but we know there is still too much inconsistency and variation."
The report comes a day after Education Secretary Michael Gove said the government would legislate to ensure that potential adoptions are not blocked purely because the would-be parents are not the same race.
Mr Gove - who was himself adopted at four months - said it was "disgraceful" that black children were a third as likely to be adopted from care as white ones.
He said it was "outrageous" for them to be denied a loving home because of a "misguided" belief that race is the most important factor in considering potential adoptive parents.
An Adoption Plan aimed at sweeping away bureaucratic hurdles to adoptions in England is due to be published next month.