Counter-terrorism degree launches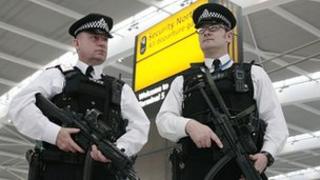 A university is launching degrees in counter-terrorism and airport security - with the latter claimed as a first in the UK.
The University of Central Lancashire (UCLAN) says it wants to train the next generation of security professionals.
The airport security course is being designed in conjunction with the police and airline industry.
Andy Johnson, course leader and former police officer, says it will reflect the "evolving security landscape".
Universities are facing an increasingly competitive market for students and income - and this development, by the Preston-based institution, will hope to reach a growth area.
Degree of discretion
The two courses - an undergraduate degree in airport security management and a postgraduate degree in counter-terrorism - will be delivered by the university's School of Forensic and Investigative Sciences.
Forensics courses have appeared in many universities - with their popularity attributed to television crime dramas.
"Our BSc in Airport Security Management is the first in the country, and will provide our students with theoretical and practical understanding of managing this complex security challenge," said Mr Johnson, a former detective chief inspector.
This will add to other terror-related courses on offer - such as the terrorism studies masters course at St Andrews and the terrorism studies degree at the University of East London - which is taught in the evening to help students who are working.
The recruiting material for UCLAN's three-year full-time course in airport security shows fingerprints, CCTV cameras and computer screens.
Students interested in the one-year counter-terror course will need to have at least a 2:2 degree - but it suggests, with maybe a hint of James Bond, that applicants with "non-standard qualifications" will also be considered.
The university describes the course by saying: "Students will gain an awareness of the legislation and latest methods used to deal with the changing face of violent extremism in both UK and international settings."