Charities claim 'better than welfare-to-work industry'
By Sean Coughlan
BBC News education correspondent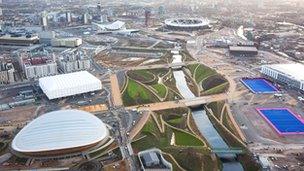 A charity says its informal work-placement networks - including job fairs in churches and mosques - are more effective than private contractors which receive millions from taxpayers.
The community charity, London Citizens says it has found 1,300 people jobs related to the Olympic Games.
There has been increased scrutiny of schemes to get people back into work.
The Department for Work and Pensions says it is too early to assess the success of Work Programme placements.
The report from London Citizens, which is published by the think-tank the Institute for Public Policy Research (IPPR), demands more transparency in the "welfare-to-work industry" - and highlights how local community organisations have found jobs in Olympics regeneration projects.
The Salvation Army, mosques, schools and university students took part in a recruitment drive - with the IPPR report estimating a cost of £60 per person who was found a job.
The scheme was announced from church pulpits and at prayers in mosques, says the London Citizens group.
There were practice interviews for jobs and confidence-building events - and the report describes a Salvation Army volunteer who got a reluctant applicant to "smarten up" and then drove him to the interview, where he was offered a job.
The report wants to contrast this local approach against the cost of using private contractors to get people off benefits and into work.
The government's £5bn Work Programme scheme pays companies to get people into employment.
But a spokeswoman for the DWP says that it is too early to assess whether such contracts are succeeding and providing value for money.
The first statistics on such job outcomes are expected to be published in the autumn.
The London Citizens report is calling for "full accountability" about the work of major contractors, such as Seetec, A4e, CDG.
"Specifically, we are calling for information on how many people have been placed into employment that can sustain families; how much has it cost the taxpayer per person placed in employment."
Seetec says that the number of people finding work is a "moving figure" and it cannot give any details - and it did not give a figure for how much its contract with the DWP is worth.
London Citizens claim that Seetec's contract is worth £62m.
Seetec says it is "proactively identifying suitable candidates for upcoming Olympic jobs and supporting these customers through the application process" and that it is "passionate about improving skills and helping individuals secure employment".
There has been increasing scrutiny of work-to-welfare schemes.
The Daily Mail recently highlighted how the chair of one of the big welfare-to-work contractors, A4e, had received a dividend of more than £8m.
There has also been controversy over a separate work experience scheme - with questions about unpaid work placements.
Work and Pensions Secretary Iain Duncan Smith attacked critics of the work placement scheme as "jobs snobs".
On Tuesday, the Deputy Prime Minister Nick Clegg announced a £126m payments-by-results scheme to get teenagers into work or training.
Related Internet Links
The BBC is not responsible for the content of external sites.