Visas: Foreign students may shun UK, report warns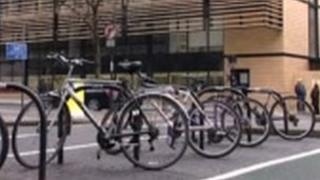 New visa rules mean the UK's top universities and schools are in danger of losing their appeal to foreign students, according to a report.
It says planned government changes to student visas risk deterring legitimate students.
And it warns that students who may once have come to the UK could opt for the US or Canada instead.
A Home Office spokeswoman said the reforms would help stop students coming to the UK to work rather than to study.
The report, Education: A Great British Export, says the changes threaten an industry projected to earn more than £26bn a year for the British economy by 2025.
The authors welcome the crackdown on people who misuse the system, but say it is important to continue to attract legitimate students to the UK.
One of the authors, Graham Able, who was head of Dulwich College in London until 2009, told BBC News: "It is in the interests on Great Britain plc that international students come here to study. So anything that makes that doubtful should be called into question.
"The UK has some of the best colleges and universities, but we are in danger of losing market share to the US, Canada and Australia."
The report was funded by co-author Fraser White, chief executive of Shanghai-based Dulwich College Management International (DCMI).
DCMI runs a number of British-style schools in East Asia.
Chinese aspiration
Mr White said he was worried by a growing trend for Chinese students to aspire to enter top American schools and universities rather than British ones.
The changes restrict postgraduate employment in the UK to those with a top degree and a job with an accredited employer paying over £20,000 a year.
Details of the plans were announced last week by Immigration Minister Damian Green.
"It is vital that we continue to attract the brightest and the best international students but we have to be more selective about who can come here and how long they can stay," said Mr Green.
A critical export
The authors say the most recent figures from the US-based Institute of International Education suggest the UK's share of international students shrank by 1% between 2009 and 2010.
However, figures from admissions service Ucas show that the numbers of foreign students who both applied and were accepted by UK universities continued to grow during the five years to 2011.
The report also quotes a survey of 428 Chinese secondary school pupils and their parents conducted by DCMI last November.
About half said they would be less likely to consider a UK university if it became harder to work in the UK after graduating.
Hilary Moriarty, national director of the Boarding Schools Association, said: "There will be a knock-on effect on British boarding schools. Some pupils will go to American schools instead as they feed into American universities.
"It is a great shame that Britain isn't proud of offering education to the world."