Parents given 'confusing' message on free school meals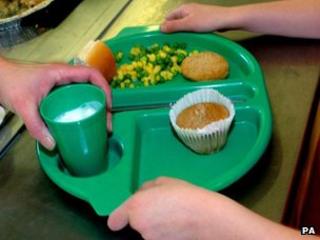 A food campaigner says the government and schools are sending a confusing message to parents eligible to register their children for free school lunches.
The government says parents should sign up for the meals even if their children "are not going to have them".
This is because schools receive an extra payment for each child registered for free lunches.
But Judy Hargadon, chief executive of the School Food Trust, said it was vital that poor children ate the meals.
Free school meals have long been a measure of a disadvantaged childhood, but the coalition government has attached extra funding to each child registered for the meals.
The funding, known as the Pupil Premium, is paid directly to schools and follows pupils if they change schools.
The government's Directgov website advises parents: "If your child is eligible for free meals, it's worth registering them even if they're not going to have the school lunch."
Fit to learn
Ms Hargadon said she thought the premium was "a brilliant idea", but she added: "We are very concerned when we come across examples of schools saying you don't have to eat the meals.
"That indicates to us that they are not registering the importance of children getting these meals.
"For some children, a school dinner is their only, or main meal of the day."
She said schools which failed to stress the importance of the meals were being short-sighted and missing a brilliant opportunity.
If the pupils were to eat the meals not only would the schools get the Pupil Premium money but, she said they would be getting "more attentive pupils in the afternoon, pupils who are fit to learn".
"It's a very confusing message for people," she added.
A government spokesman said: "We want every child eligible for free school meals to sign up for them - so that pupils benefit from a healthy school lunch and schools receive all the Pupil Premium funding they need to support them."