Parents fear 'supersize' primary schools, says Netmums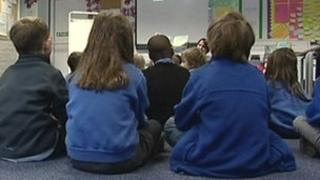 Parents are worrying that a shortage of places is creating "supersize" primary schools, according to the Netmums website.
A surge in the birth rate in some areas has meant a rapid expansion of schools, with temporary classrooms added.
A survey of mothers' experiences on Netmums found concerns about children being "overwhelmed" at big schools.
Parents reported their reservations about primary schools that in some cases now had more than 700 pupils.
"The rising birth rate means we are seeing the birth of mega primaries," said Netmums' founder, Siobhan Freegard.
Official forecasts last month showed that an extra 450,000 primary places will be needed in England between 2010 and 2015.
Many local authorities are under pressure to find room for such an expansion - such as building temporary "bulge" classrooms.
But the Netmums website says there is disquiet among parents - with fears that expansion will change the character of primary schools and the pressure on places will make it harder to get a first choice place.
More than a thousand parents contributed to a discussion about the places shortage.
Although not a representative sample, it showed parents voicing concerns about schools with a one-form entry becoming schools with a two- or three-form entry.
In some cases, parents said there were now up to five primary classes in a single year.
"It can make smaller children feel overwhelmed," said one of the Netmums contributors, who expressed concern about less attention to individual pupils and fears about bullying and gangs.
"I think that big schools will definitely affect some children, especially quiet, less confident kids," wrote another.
"Our city has increased so much in the last six-seven years, but building one more small school was nowhere near enough judging by the struggle for places."
Staggered times
There were other parental concerns - such as children not being known individually, siblings having to attend different schools and a shrinking catchment area.
"Large schools make sense from a money wise and business point of view but I've seen children in reception look overwhelmed just going into their door, as there are 89 other children in their year.
"School has amazing facilities due to its high numbers and good funding - but I'm not sure good facilities compensate for children feeling more secure in a smaller school environment," said a Netmums comment.
But there are also parents who prefer a bigger school, including from a parent whose child is at a primary school with 840 pupils.
"Depends on the school and the child. If the large school is a good one, I don't think it disadvantages the child, quite the opposite. The school where my son is in the nursery class has nearly 700 pupils and this will increase to 840 as it is now a four-form entry.
"The children say it doesn't feel like a big school because of the way it has been organised. For example, staggered starting and finishing times, separate playgrounds for nursery, reception, infants and juniors.
"Being a large school, they also offer a number of specialised teachers, they have a swimming pool and various after-school clubs on-site."
Split-shift schools
The shortage of places in primary schools reflects a growth in the birth rate - with some areas facing an increase of 25% or above in the primary school population. It also means that in a few years secondary pupils will face a similar surge in demand.
In Barking in east London, with one of the biggest increases, there will have to be places found for an extra 8,000 primary pupils by 2015.
The council has been considering converting disused commercial buildings into classrooms - or even more radical responses such as the split-shift use of schools.
But in many cases the response has been to expand the existing schools.
As well as a rising birth rate, there have also been demographic changes, with families being drawn into areas by employment or new housing developments.
Although much of the attention has been on London and other major cities, there are also concerns in other parts of the country.
A protest group of parents in Winchester in Hampshire has been lobbying over a lack of places and the impact that is having on parental choice.
Netmums' Siobhan Freegard warns that the increase in demand for places is at a time of budget pressures on local authorities.
"Set this against cuts to the school building programme and we have a perfect storm where more kids will be crammed into bulge classes in schools designed for far fewer pupils.
"Both parents and teachers have raised fears it will affect pupils learning - so the government needs to take action and invest funds now."
The government has already announced that it will create more places in response to the shortage - with £4bn to be invested over four years in the places under the greatest pressure.
A Department for Education spokesman said: "Many areas are dealing with an unprecedented rise in primary numbers - back up to levels last seen in the 1970s.
"No-one is saying it will be easy balancing demand for places with retaining the sort of character and ethos that parents want. Our job is to put the capital investment in place so councils and schools can make the right decisions."