Teaching union ATL backs pension deal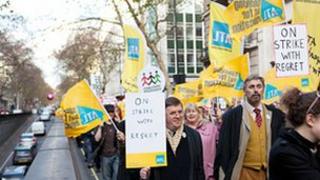 Members of the Association of Teachers and Lecturers have voted to back the government's revised pensions deal.
Some 91.6% of ATL members voted in favour of the deal, thrashed out after a one-day strike in November with six other teaching unions.
ATL is one of the smaller, more moderate teaching unions and represents 160,000 teachers, heads, lecturers and support staff in the UK.
Its president Alice Robinson said her union's members were "realists".
The issue prompted the first strike in ATL's history in a July 2011 and a further walk-out in November.
Under the latest deal, teachers' pension contributions will still increase, but ATL says their pension pots will grow faster than under the current Teachers' Pensions Scheme (TPS) because of an improved accrual rate.
It also points to the fact that teachers will continue to be able to retire from 55 onwards subject to a reduction in their final pay outs.
The National Union of Teachers, the NASUWT, UCU and Welsh union UCAC, have rejected the deal. These four unions cover about 80% of members of the TPS.
They say teachers will have work to 68 to get a full pension, pay an average of 50% more for their pension and have their pension indexed by CPI (consumer price index) instead of RPI (Retail Price Index) - cutting the value of their pension by about 15%.
'Incredibly tough'
ATL general secretary Dr Mary Bousted said: "The pensions talks and negotiations were incredibly tough. The government did not want to make concessions and we had a hard fight to get a fairer deal for teachers.
"It was only because ATL members, along with the members of six other education unions, were prepared to show their strength of feeling by going on strike and lobbying their MPs that we managed to force the government to shift its position and start talks to get an improved offer.
"I am really proud of the courage ATL members showed when they took part in the union's first national strike in its 127-year history."
The Association of School and College Leaders and the National Association of Head Teachers have also been considering the deal.
ASCL general secretary Brian Lightman said it was with considerable reservation that his union's ruling body took the decision to accept this agreement.
But he warned that it was not a final deal yet and that there were some issues that still needed to be finalised.
"We recognise that we have achieved a significant improvement over the first offer put on the table and that it provides important concessions, but there is also huge anger from our members about how the whole process has been managed and the inconsiderate way the profession is being treated," he added.
But the National Association of Head Teachers said "too many questions remained unanswered" after extensive talks at its headquarters on Monday.
Russell Hobby, general secretary of the NAHT, said: "This is a poor deal with grave consequences for the future of education system. It is also incomplete. We cannot sign up to it as it stands.
"While major issues are still on the table, particularly the contribution rate increase, our negotiators will continue to represent the interests of the entire school workforce."
He added that negotiations would continue.
Education union Voice has signed up to the government's offer but will consider the matter again when the full details of the deal are on the table.
A Department for Education spokesman said: "The deal on the table reflects teachers' and heads' arguments about what's most important to the profession, particularly around early retirement.
"It's a fair deal which strikes the right balance - guaranteeing teachers a good future pension but keeping long-term costs firmly under control."