University tuition fees commission set up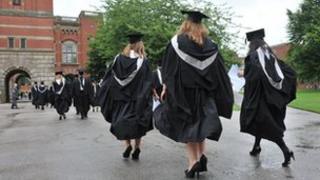 An independent commission has been set up to examine the impact of increased tuition fees in England.
A panel led by the writer and Oxford University principal Will Hutton will work closely with the university admissions body Ucas.
It says it will look especially at the effect of higher fees on young people from low and middle income backgrounds.
Fees at England's universities will rise up to a maximum of £9,000 a year this autumn.
They will also rise in Wales and Northern Ireland - although students from Wales will be subsidised wherever they study in the UK and those from Northern Ireland studying there will not pay more.
In Scotland, Scottish students will continue to pay no fees, although those coming from other parts of the UK will be eligible for fees of up to £9,000.
The other panel members are Stephen Machin, professor of economics at University College London, the broadcaster Libby Purves and Sir Peter Lampl, chairman of the Sutton Trust education charity and the Education Endowment Foundation.
'Dispassionate analysis'
Mr Hutton, the principal of Hertford College, Oxford University, and executive vice-chair of the Work Foundation, said: "It is incredibly important that we provide an independent check on the biggest reforms for higher education in a generation, particularly looking at what impact higher fees have on prospective students from less privileged backgrounds.
"We will be keeping an open mind; the aim will be to produce a dispassionate and authoritative analysis of the data as it emerges."
The panel will analyse detailed data from Ucas on applications, offers made by universities and acceptances.
It will sit for three years and hopes to produce its first report in six weeks' time.
On Monday, Ucas will publish detailed information on application figures for courses starting in the autumn.
The main deadline for university applications was in mid-January, although applications are accepted after this date.
Data released earlier this month showed that up until mid-December, applications from UK students for UK universities were down 7.6% (23,000) on the same time last year.
The university think tank million+ warned that there had been a large downturn in applications from mature applicants.
'New barriers '
The National Union of Students welcomed the setting up of the panel.
Liam Burns, NUS president, said: "Throughout the application process for this year we've seen worrying signs that there are fewer university applicants, many of whom have seen their ambitions suffer at the hands of caps on student number caps in previous years and now face new barriers to access.
"A balanced and truly independent analysis that puts aside any of the panelists' preconceptions about the merits or otherwise of the fees system is vital to ensure vulnerable students do not have to abandon their ambitions in higher education."
A spokesman for the Department for Business, Innovation and Skills said: "We look forward to working with all interested parties as our reforms take effect.
"No-one should be put off going to university for financial reasons. All eligible new students will not have to pay tuition charges upfront, there will be more financial support for those from disadvantaged backgrounds and everyone will make lower monthly loan repayments than they do under the current system once they are in well paid work.
"We have ensured that universities take fair access more seriously than ever before."
The government recently extended the run of a series of talks in schools run by recent graduates, designed to explain the fees and loans system to teenagers.