How toddlers teach troubled teens not to get pregnant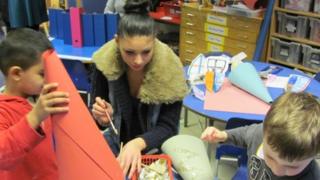 As the conception rate for young women under under-eighteen in England and Wales falls to its lowest rate since 1969, the BBC News website visits a scheme which gives teenagers a taste of looking after small children.
There's glue and glitter on the classroom floor. Kelly, aged 14, and her team of three to four-year-olds are making wizard hats.
At a nearby table, Cherelle, also 14, is helping three-year-old Stephanie use a computer.
Stephanie doesn't want to do it and it takes all of Cherelle's powers of persuasion to get her to engage.
This is a Teens and Toddlers project, open to 14- to 16-year-olds of either sex. The teenagers, from a north London secondary school, have been paired with children at a nearby nursery.
Some of the teenagers will have had behavioural problems, others may have been excluded from school.
The programme is designed for young people who might otherwise be at risk of becoming parents or opting out of the education system before they have any qualifications.
The teenagers are working alongside the teaching staff. Each has been given a child to focus on - but they also help with the rest of the class.
It's busy and the children don't always do as they are told.
Some of the children have made swords from cardboard and paper, part of a project on the medieval knights.
The teacher shouts a reminder: "Remember what we said. Only slow-motion fighting please. Don't hit each other with them."
It's just after two on a wet Tuesday afternoon. The class is exuberant at being allowed outside to play with their swords in a gap between rain showers and after a morning's hard work.
Responsibility and privilege
The teenagers get a taste of what it's like, for once, to be in a position of responsibility, maybe a glimpse of what it's like to be one of their own teachers - or a parent.
The concept of Teens and Toddlers was invented by Laura Huxley, widow of the novelist Aldous Huxley. It was brought to the UK by Lady Diana Whitmore, now chief executive of the charity that runs the programme.
"The idea of Teens and Toddlers is to give young people face-to-face experience of what a responsibility and privilege it is to have a child," Lady Whitmore told the BBC.
Raising aspiration
"If we can raise aspiration and self-esteem in a young person we can make a real difference to their lives.
"We ask them 'What do you want to do with your life and what choices do you need to make to get there?'
"They begin to realise they have to stay in school to achieve what they want in life - and teenage pregnancy is one of the biggest factors against staying in school," she added.
A tracking survey of the young people who have done the programme over the past eight years suggests it is extremely successful at preventing teenage parenthood, with the rate of conception at just 2.6%.
The survey also shows that 93% of the teenagers from the programme are still in education, employment or training at age 18 - about 10% higher than for England as a whole.
The teenagers told the researchers the course had made them feel more confident and more determined to avoid trouble, stay in education and have a career.
Figuresjust released by the Office for National Statistics shows the rate of teenage conception in 2010 fell below 35,000 - a drop of nearly 10% on the previous year, and the lowest rate since 1969.
Mariam Jones, now 22 and a mentor with Teens and Toddlers, was herself on the first course, aged 14.
Mariam admits to have been "pretty disengaged", though she knew that she wanted to stay in education. "But how I would have done it without the skills I learned on the course I don't know," she says.
Clear thinking
She estimates that about two-thirds of her school cohort became parents before they were 20, "even people who were in top sets - you would never have expected it to happen to them.
"The programme helps you decide your perspectives and priorities, to think clearly.
"Having the right tools is a defence mechanism when things go wrong. Having done the course made it easier to cope and stay on track when I faced difficult times," she says.
The end of the school day brings home-time for the toddlers, but a different sort of work begins for the teenagers.
Mariam and her colleague Rose Campbell ask the girls to reflect on the day's events, any changes in the children and how they are applying the skills they are developing at the project in their daily lives.
They talk about setting and breaking boundaries and how to handle unacceptable behaviour.
"Callum started hitting people when he got bored," says Kelly.
"Stephanie wouldn't leave me alone. She was holding on to my leg," says Cherelle.
The advice is simple: "Be clear and precise, be specific, direct and to the point. You name the behaviour and talk about the emotions behind it," says Rose.
But a strange transformation comes over some of the girls. In the nursery they had been behaving like responsible adults with the care of children - but now they revert to naughty teenagerhood - giggling and messing with mobile phones.
Rose has to speak sternly: "You lot are not little children. You respect me and I respect you.
"What are some of the boundaries you have broken here today? Boundaries about mobile phones and not listening when people are talking! How does that make the others feel?"
The answer comes from Cherelle: "It makes me feel it is not going smoothly and we are probably going to be late."
The idea is that the teenagers start to see their own behaviour and relationships with parents and teachers mirrored in their interactions with the toddlers.
Kelly says: "I am getting on so much better with my mum since I have been coming here."
Rebecca says: "Since I have been doing the course I have more understanding of the situation, putting myself in the other person's shoes.
"I can say what if that was me in the nursery, having to control all those children. It would be frustrating," she adds.
Comments like these suggest that the message is beginning to get through to this particular group of teenagers.
Some names have been changed.