Gordon Brown calls for global fund for education target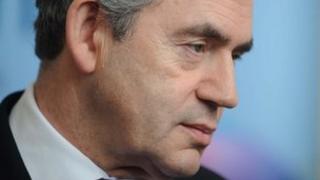 Gordon Brown is making an impassioned call for the international community to make education a higher priority - and to make a co-ordinated plan to achieve universal primary education by 2015.
The former UK prime minister wants to create a "global fund for education" to raise the £13bn per year needed to bring lessons to the poorest children.
There are 68 million children in the world missing out on primary education.
There is a "hidden and silent emergency in education," warns Mr Brown.
The global target of providing access to a primary school education for all children by 2015 was one of the millennium development goals set out by the United Nations and world leaders at the beginning of the century.
But as that date approaches, Mr Brown says the target is set to be missed, with progress slowing rather than accelerating.
On Wednesday he is publishing a report setting out the case for a global fund for education, which will inject finance and energy and become a "game-changer" in the flagging bid to bring a basic education to all children.
Mr Brown wants to galvanise global efforts to reach the groups of children who are missing out on the first steps of education.
These are concentrated geographically - in parts of sub-Saharan Africa and south Asia - but they are also characterised by other inequalities, such as girls who do not receive the same opportunities as boys.
Countries with conflicts, such as Afghanistan or South Sudan, are also much more likely to have children without any access to education. More than two in five of children missing out on education are living in countries with violence and political conflicts.
It means that in South Sudan, girls are more likely to die in childbirth than to get beyond the first years in primary school.
Classrooms and teachers
Even if the numbers of those out of school have fallen by 40 million since the millennium targets were set, he argues that these pockets of deep deprivation remain.
Mr Brown's report calls for a more effective way of targeting such problem areas - and highlights the need for a greater sense of urgency.
"Cameras never capture children going hungry for want of education, or lives devastated for want of learning," he says.
The proposed education fund echoes the type of public health initiatives which systematically target a disease or a health problem with a clearly-defined outcome
He argues that health campaigns have been much more successful in raising funds - and that current funding drives for education have proved inadequate for the scale of the challenge.
Sub-Saharan Africa faces a shortage of one million teachers, the poorest countries need another four million classrooms, he says.
An independent global fund would seek to raise more funds from "non-traditional" donor countries, such as China and Russia, Mr Brown argues.
At the World Innovation Summit for Education summit in Qatar, Mr Brown had called on technology entrepreneurs to contribute to such a project.
Mr Brown contrasts how in a hi-tech, modern "knowledge-based and interconnected global economy" there are still tens of millions of children who miss out on any schooling.
And among those who are at school, too many receive an education of "abysmal quality".
Having had a seat at the top tables of international conferences, Mr Brown says that this next big project is a bid to improve the chances of those whose "basic rights do not make it on to the agendas of global summits".