Doubts over new private university expansion plan
By Sean Coughlan
BBC News education correspondent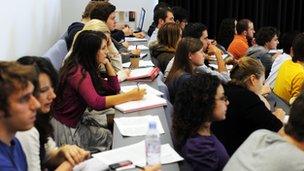 Doubts hang over the plans to open up the UK's university sector to a new wave of private providers.
There are reports that higher education reforms in their current form might not be put forward as legislation.
Changes in fees and funding do not need legislation - and there are suggestions that a separate bill focusing on private providers could emerge later.
The Department for Business, Innovation and Skills said "no final decision" on legislation had been taken.
"There's going to be a further discussion in the next couple of weeks. There's no final decision either way yet," said a spokesman for the department.
The Daily Telegraph reported on Tuesday that a Higher Education Bill was set to be dropped or delayed and would not be part of the government's legislative programme in the Queen's Speech.
Many of the most high-profile changes in higher education - such as raising tuition fees, reducing teaching budgets, student numbers and creating a more competitive market in places - have already gone ahead, without the need for further legislation.
Students at private universities can already access student loans for tuition fees up to the value of £6,000 per year.
As such there have been suggestions that the coalition government will be reluctant for another parliamentary struggle over changes to higher education which are already in place.
In particular, Liberal Democrats, who pledged to vote against raising tuition fees before last year's general election, might not relish more bruising political battles and student protests over the future of universities.
Delaying the full reform package would mean not pressing ahead with an expansion of new private sector providers - including those from overseas.
It is believed that an option for ministers would be to break up the current proposed legislation and create a separate, more tightly focused bill at a later date, which would provide a framework for increasing the intake of new university providers.
This would mean "decoupling" the plans for the private sector from the broader vision of the White Paper.
The prospect of the dismantling of the current White Paper proposals has prompted a mixed reaction from students and university leaders.
The UCU lecturers' union supported the delay to plans which they said would have "allowed for-profit companies increased access to UK higher education and taxpayers' money".
The union's general secretary Sally Hunt highlighted the financial investigations into some for-profit universities in the United States.
The Million+ group of new universities said it welcomed a rethink on how private provision would be expanded.
"The extension of university title to private providers and non-teaching organisations was always going to be contentious, and risks undermining the reputation of UK higher education and our ability to trade internationally," said chief executive Pam Tatlow.
But the National Union of Students accused the government of a "hit and run" - with major changes being made without parliamentary scrutiny.
"Having lost the battle of public opinion over the trebling of tuition fees, the government is clearly not up for another public battle on its plans to sell off our education and will look to do it in private and under the radar instead," said NUS president Liam Burns.
Delaying legislation would not affect established private providers, such as BPP University College, which already have degree-awarding powers and whose students are eligible for student loans.
"Of course, we'll see less competition in the short term, as there will now be a delay in those new entrants that were planning to enter the sector," said the university college's chief executive, Carl Lygo.
"Longer term, if parliamentary time is too tight, then the reforms to higher education are likely to continue through secondary legislation," he predicted.
Shabana Mahmood, shadow minister for higher education, accused the government of creating "unnecessary chaos and confusion for universities and students alike".
Related Internet Links
The BBC is not responsible for the content of external sites.