Voltaire English letters discovered by Oxford academic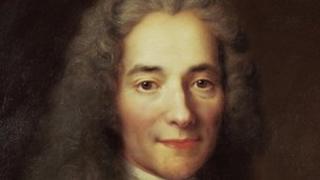 An Oxford academic has uncovered letters by Voltaire which reveal how much this icon of French writing profited financially and intellectually from a stay in England.
They include a signed acceptance from the 18th Century writer for a £200 grant from the Royal Family.
The writer abandoned the French spelling of his first name, Francois, styling himself "Francis".
Professor Nicholas Cronk says Voltaire was "hugely opportunistic".
There are 14 newly-discovered letters which are being studied by the Oxford-based Voltaire Foundation, which is carrying out a mammoth work of scholarship, which will have taken 50 years to produce a definitive collected work of all Voltaire's writing.
It is expected to be completed by 2018.
Grandees and grants
Professor Cronk, the foundation's director, says the new letters, found in US libraries, cast a light on two years spent by Voltaire in England in the 1720s early in his literary career.
It shows that he rapidly acquired links with the powerful and wealthy, and that he became influenced by the work of English philosophers and scientists.
He carried these ideas back to continental Europe, with his books being read in many countries, in the manner of a modern international public intellectual.
This was an era of grandees with great houses and libraries - and Voltaire makes reference to visiting the home of Lord Bathurst at Richings, a country house in Buckinghamshire that survived until it was demolished after World War II.
"Voltaire came to England as a relatively unknown poet with only a recommendation from the British ambassador to Paris, so to make the aristocratic connections that he did shows him to be a brilliant social climber," says Professor Cronk.
"Sarkozy referred to the stay when, during his pre-election campaign, he told French businessmen in England that they were following in Voltaire's footsteps, so it is exciting to be able to add to the existing knowledge of this short but important visit."
Call me Frank
The letters are the only known example of his using an English form of his first name, Francis, instead of Francois in French.
His use of the anglicised form of his name followed the receipt of a financial handout from the British court, which boosted his fledgling career.
He had made the canny move of dedicating a poem to the future Queen Caroline - and Professor Cronk says she is likely to have been the instigator of the £200 payment.
"The letter's significance lies in the fact that this grant probably came to Voltaire at the request of Queen Caroline, a protector of the arts, which reinforces just how closely Voltaire had integrated himself into the English aristocracy in such a short time," he says.
The writer had already changed his surname. "Voltaire" was an invention, drawn from a Latin anagram of his family surname.
Voltaire was attributed with some famous last words. Asked by a priest to renounce the devil, he is reported to have said: "My good man, this is no time for making enemies."
But this is unlikely to be the last word on finding more of Voltaire's letters.
There are more than 20,000 letters from Voltaire known to scholars, but Professor Cronk believes that there could still be thousands that still remain unidentified.