Foster system held back by council fear of criticism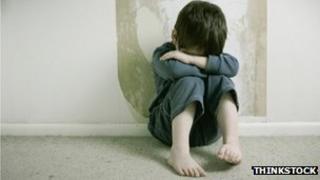 A culture of fear has led some councils to protect themselves more than the children in their care, according to the government's child protection adviser.
Professor Eileen Munro was responding to "distressing failings" in the foster care system highlighted by the BBC.
They include children being removed from homes because of unsubstantiated allegations.
The government says it has committed to overhauling the fostering system.
With 65,000 children in care in England alone, and with a shortage of foster carers, the need for homes has never been greater.
But the BBC's File on 4 programme has found evidence of foster carers being shut out of the system following disputes with social services departments.
Professor Munro, from the London School of Economics, said councils were often too quick to remove children from foster homes because they were afraid of criticism.
"So you end up with many agencies starting to protect themselves from risk more than the children from risk," she said.
"What can happen is that if people are in a very defensive, compliance culture, they're very scared of saying they made a mistake."
In one case, an experienced Derbyshire foster mother had a baby suddenly taken away from her because of unspecified concerns from social workers.
After threatening to take legal action, Lisa - not her real name - discovered she was accused of taking the baby to the doctor too often.
Lisa asked for access to her file via the data protection act, which showed a catalogue of errors.
"One of the things that sticks out specifically for me is my youngest daughters accesses child adolescent and mental health services (CAMS) which is the mental health body.
"They had written to say social services had written and said that CAMS had concerns over me and my daughter," says Lisa.
"When I argued it with them and said 'you never told me that' they said 'no you've missed out the word no, we had no concerns over her'."
After three years, Lisa finally got a full retraction from Derbyshire social services.
Her name cleared, she returned to fostering only to run into more problems and social workers now refuse to work with her.
Lisa said: "There are an awful lot of children out there and they could have done with keeping someone who is actually experienced at looking after the child.
"I miss caring for the children. I loved what I did and I was good at what I did."
In a statement Derbyshire County Council said it stood by its decision, but admitted mistakes had been made.
It said procedures had been changed to ensure this did not happen again.
Foster carers 'integral'
In another case a vulnerable young man was removed from the home he had known since he was four, after Manchester City Council received a referral from his school.
There were allegations that he had made vague references which led to the suspicion he may have been locked in a cupboard or wardrobe.
He was placed in a residential unit and his foster mother Ann - not her real name - who had looked after him for 14 years, was not allowed to see him.
Even when an investigation found no evidence of abuse, council officials refused to let the teenager return home and continued to bar Ann from seeing him.
When his behaviour deteriorated, he was given psychiatric drugs to keep him calm.
"They had put a nappy on him, when he doesn't wear nappies. I couldn't believe it," said Ann.
In 2010 the Court of Protection ruled that the council had acted unlawfully in depriving him of his liberty and right to a family life, and criticised social workers for ignoring his close relationship with his foster mother.
He is now back with his foster family and is suing Manchester City Council.
In a statement the council said they strongly believed they did the right thing, but admitted they went about it in the wrong way.
Mark McGhee, the lawyer who brought the case, said it was a landmark case because it recognises that over a period of time a foster carer can become so integral to an individual's well-being that to all intents and purposes they takes over the parental role.
Matt Dunkley, president of the Association of Directors of Children's Services, said it was important to balance these individual cases with the many others where fostering was successful and transformed children's lives.
"In the great majority of cases, it goes right and we need to judge by what happens in the majority not the minority," he told the BBC.
A Department for Education spokesperson said the government has already committed to overhauling the care system, including fostering, and would set out more details later this year.
File on 4 is on BBC Radio 4 on Tuesday 24 January at 20:00 GMT and Sunday 29 January at 17:00 GMT. Listen again via the Radio 4 website or download the podcast.