Lone child migrants returned to France under secret deal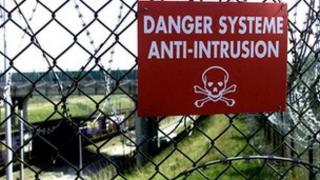 Border staff turned back lone "vulnerable" children who failed to claim asylum when they arrived at UK ports, under a secret "Gentleman's Agreement" with France, it has emerged.
England's children's commissioner Maggie Atkinson revealed that under the 1995 deal, lone children arriving without travel papers were deported.
The UK Border Agency ended the removals last year after she intervened.
She is now seeking the details of how many children were affected.
Dr Atkinson has been working behind the scenes with the head of the UKBA to bring the practice to an end, but she has now made the issue public for the first time in her report, Landing in Dover, published on Tuesday.
'Vulnerable children'
In it, she said: "Children arriving unaccompanied in the UK are some of the most vulnerable that my office deals with. Of the relatively small number that enter the country each year, most are seeking asylum."
She added that they were entitled to protection and humanitarian assistance under the UN Convention on the Rights of the Child, and should be treated in a similar way as an orphan might be cared for by his or her local authority.
The report summarises the results of an investigation into the experiences of unaccompanied children arriving in Dover, Kent.
Dr Atkinson said it was during the course of the investigation that she was given a copy of the so-called "Gentleman's Agreement" by UKBA staff.
"Further enquiries (with which UKBA co-operated fully) clarified that children who did not register a claim for asylum at the point of entry faced a real risk of being returned immediately to France under the terms of this agreement," she said.
This clashed with the UKBA's duty to safeguard children and promote their welfare, she added.
"We know of at least seven children who experienced this in 2010 and it is likely there were others."
In 2010 some 1,700 lone children applied for asylum in Britain.
But a Home Office spokesman could not say how many children who had not applied for asylum had been removed from Britain.
Dr Atkinson told the BBC News website: "These unaccompanied children are usually young to mid-adolescent children aged around 14 to 16. They come from very difficult, war-torn countries or repressive regimes.
"If you take, for example, some of the Afghan boys who have arrived here, they have taken about two years to cross two continents in the most awful conditions, sometimes trafficked, sometimes exploited, sometimes paying vast amounts which they have to work to pay back.
"If they have a bit of nous or they have been briefed they can claim asylum, then they are put through the official system.
"If they don't claim asylum then under this 'Gentleman's Agreement', as it was presented, they were simply returned to France.
Trafficking victims
"It seems nothing was written down, it was a gentlemen's agreement, and they would disappear when they got back to France."
She said it was impossible to know how many children would have been turned back in this way, but she was now asking the UKBA to answer this question.
The agreement was in place between 1995 and August 2011, when Dr Atkinson raised the issue with the UKBA chief executive Rob Whiteman.
In his November letter responding to Dr Atkinson, Mr Whiteman said the agreement was not exclusive to Dover, but had been used at Newhaven and Southampton as well.
He added: "Since you have raised this subject with us, we have had a further think about whether the continued operation of this agreement remains appropriate for children.
"I am pleased to inform you that we think the current practice of removing unaccompanied minors to France under the Gentleman's Agreement should cease immediately."
He also said that of the seven known cases that Dr Atkinson had raised with him, two had had re-entered the UK and had been upheld as "potential victims of trafficking" when they claimed asylum.
Immigration minister Damian Green welcomed the report, saying the main recommendation had been already implemented at Dover, which is that interviewing should be postponed until after a child has had a period of some days to recover from their journey and secure legal representation.
"We will respond to the report more fully later this month."