Guidelines on preschool food from School Food Trust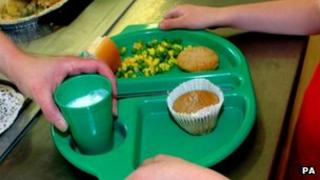 New guidelines on nutrition for preschool children, aimed at reducing obesity, have been published.
The advice includes information on what food young children should eat, recipes and help for fussy eaters.
The guidelines, from the School Food Trust, follows a report which said that some young children were being given food better suited to adults.
The report said that more than a fifth of children were overweight or obese when they started school.
The School Food Trust said the new voluntary guidelines were a nationally recognised source of information on food for young children, aimed at nurseries, childminders and other providers of services for preschoolers.
The need for clearer guidance was flagged up two years ago by an independent panel of experts on food and nutrition in the early years.
The panel highlighted the fact that while many childcare providers were doing an excellent job, some had not taken on board the particular nutrition needs of very young children.
The result was that some children were being given too much salt and sugar and too little energy in the form of carbohydrate and fat.
Sometimes their diets lacked fruit and vegetables, and dietary fibre. They were often also short of essential minerals like iron and zinc.
Tooth decay
The new guidelines advised those cooking for young children to establish good eating habits.
There was also information on how to provide a varied diet for the under-fives and how to avoid too much saturated fat, sugar and salt which can contribute to weight gain, tooth decay and poor nutrient intake.
Children's Minister Sarah Teather said: "Healthy eating is at the heart of helping every child get the best start in life.
"Nurseries play a vital role in getting children from all backgrounds to develop good eating habits - but many lack the expert knowledge of what is the best food to serve."
The guidelines were also welcomed by childcare providers.
Neil Leitch, chief executive of the Pre-school Learning Alliance, said the code of practice would help them "navigate through the maze of information about what food and drink is nutritionally appropriate for young children".
The National Day Nurseries Association said it would be working with its member nurseries to implement the guidelines.
The School Food Trust said it intended to pilot the new guidelines with five local authorities, with more joining the scheme later in 2012.