Speech services cuts 'leave children struggling'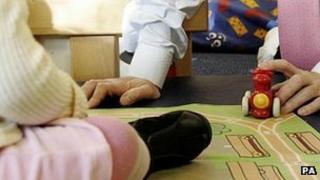 Front-line cuts are leaving parents of children with speech and language problems struggling to get assistance, England's departing communication tsar has said.
Jean Gross said cuts to council and NHS services coincided with a huge increase in the number of children needing help.
Research suggested 28% of parents found it hard to find support, compared with just 18% two years earlier, she said.
Ministers say the new health bill will ensure GPs were better placed to help.
In her report concluding her two years in post, Mrs Gross said there was "an increased awareness of the centrality of good communication skills to children's learning, well-being and life chances".
'Double whammy'
And she acknowledged improvements in picking up speech and language difficulties, but she warned much of the progress made in recent years could be lost because of cuts.
She told the BBC News website: "It's the double whammy effect. Speech and language therapy services are funded by both the health services and the local authority.
"But what many I've seen are experiencing is that both these organisations are having to make cuts of find savings.
"In some areas therapy services are finding that their funding from the local authority has completely gone, and, at the same time, the health services has asked them to make savings of 10 or 15%."
"I've personally seen cuts of over 15% in 10 services I've visited. And there's more to come - local authorities are having to make a second round of cuts from April."
Many areas were also losing specialist advisory teachers on which parents and children depend, said Mrs Gross.
She named areas where whole teams of advisory teachers were being axed or cut in half.
Rising demand
In her report, she said: "Cornwall have halved the number of early years consultants, lost half their children's centre teachers and ended their very successful Every Child a Talker programme.
"Manchester have lost all their qualified teachers attached to children's centres. Kingston-Upon-Hull have drastically reduced the number of staff in early years services."
And the cuts come as more and more children are being diagnosed with speech and language problems.
Mrs Gross said: "These cuts coincide with rising incidence of SLCN (Speech, language and communication needs), with a 58% growth over the last five years in numbers of school-age children with speech language and communication needs as their primary special need."
She called on ministers to amend the health and social care reforms to require speech and language services to be jointly commissioned by the NHS and local authorities.
She also called for all nurseries with disadvantaged two-year-olds to have staff with training in language development.
And she urged schools to screen children with behaviour difficulties to identify any underlying speech, language and communication needs they may have.
Anita Kerwin-Nye, director of the Communication Trust, which brings together voluntary and community groups in the field, said: "Despite some improvements, speech, language and communication is still a new and emerging issue.
"This makes it fragile and vulnerable. Huge churn is being felt in the education and health system with for example the growth of academies and changes to SEN provision."
Responding to the report, Public Health Minister Anne Milton said it did indicate that "some good progress has been made locally".
She added: "We are confident that this will be built upon under the Health and Social Care Bill.
"GPs understand their patients' needs best and under the bill they will be free to ensure their patients get the services they need, including speech and language therapy for children.
"They will be required to work with a number of other professionals such as paediatricians and nurses to make sure children get this support."
But the British Stammering Association echoed Mrs Gross's concerns about cuts. Its chief executive Norbert Lieckfeldt said: "We are seeing evidence of service cuts across the country with specialist posts not being filled, growing waiting lists and falling numbers of referrals.
"This is deeply concerning. If a child is stammering early and prompt intervention could help them to recover completely. Failing to intervene is forcing these children to a lifetime of stammering."