How should heads handle inadequate teachers?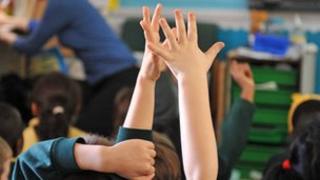 The Education Secretary, Michael Gove, has announced plans to simplify and shorten the procedure for handling inadequate teachers. From September 2012, heads will be able to remove poor teachers within about a term. We asked heads how it might work.
"Teachers are like footballers. They can fail in one club and then move to another and then do very well. It's sometimes all about the management."
So says Sion Humphreys, head of policy at the National Association of Head Teachers and a former deputy head teacher who specialised in turning around failing schools.
Seven years ago he was brought in as part of a new management team to change the fortunes of a secondary school in special measures in the south-east of England.
As deputy head, he helped identify 15 teachers whose performance was inadequate.
Pinpointing weakness
The new management team invoked a procedure called "capability" - which is used across school in England to pinpoint the precise weaknesses of struggling teachers and try to give them the support and training to improve.
He says some of them were failing because of the poor management of the previous head.
But just over half of them turned their performance around and are now strong teachers.
One of them became a successful head of a subject department in the same school.
But six or seven did not respond to the support they were given and in some cases this led to their dismissal. Others opted to leave.
Under existing guidance, the process of monitoring and support generally takes about two terms. As part of this an informal process precedes the formal "capability" procedure.
While a teacher is "in capability" he or she will be under considerable scrutiny with lessons observed, meetings with the head teacher and training sessions.
Sometimes teachers bring in their unions for support and advice at these meetings.
Under Education Secretary Michael Gove's proposals the informal section - which usually lasts about a term - will go, cutting the time scale by half.
All schools are required to monitor the performance of all teachers and to offer focussed continuous professional training.
A 'bullies charter'?
So teachers should be aware of how their performance is perceived within the school and be offered lots of opportunities and training to improve, says Mr Humphreys.
Signs of poor teaching might be concerns raised at performance reviews, an increased level of parental complaints and declining results.
Mr Humphreys denies the new system will be a "bullies' charter", as claimed by NUT General Secretary Christine Blower
"If a head is so inclined, they can sack teachers now. This is just a quicker procedure," says Mr Humphreys.
"It's not in the interest of school leaders to sack and bully staff. If someone's performance has slipped, it's like a glass half empty. Heads should see if it can be topped up again.
"If someone can do better, they should be helped to do better - but if they don't take the opportunity to improve it's time for a parting of the ways."
Head teacher Anthony Peltier agrees that improving teachers' performance is all about management.
In September he was brought in to turn around the fortunes of Clays Junior School in Grays, Essex.
Struggling to cope
The local authority feared it would fail its imminent Ofsted inspection and poor teaching was an issue.
But Mr Peltier managed to improve performance and no one got the sack.
At the inspection, Ofsted rated the school as satisfactory with good features.
However, Mr Peltier welcomes the proposed changes as he feels at the moment children are being taught by poor teachers for too long after problems have been identified.
"The current system means teachers can fail children for as long as a year," he adds.
"The new system will enable head teachers to remove poor teachers more quickly, as a last resort, once everything has been done to help them improve," he says.
He said that identifying and working with failing teachers was not a pleasant experience.
He warned that the new system should be used carefully and sparingly and only for teachers with professional failings, rather than in cases when the head clashes personally with a member of staff.
He identified three reasons why teachers fail. Sometimes it is to do with outside circumstances, sometimes it is to with teachers who struggle to cope in challenging schools, he believes.
In both of these cases he believes a good head can offer training and support to help a teacher become more effective.
However, he says: "Some have been poor for a long period and for these teachers, change is often not always possible."