Exam system too commercial, says private schools body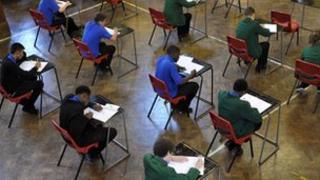 Aggressive commercialisation has seriously undermined the integrity of the examination system, according to a senior independent schools' leader.
John Wood, incoming chair of the Independent Schools Association, wants exam boards barred from endorsing text books or running teacher seminars closely linked to exam content.
Exams watchdog Ofqual is investigating reports that the boards have given unfair advice to teachers.
The boards have also proposed changes.
Mr Wood raised fears that the Ofqual investigation might not go far enough.
He also said he believed that the new safeguards suggested by the exam boards were insufficient and would do little to improve the system as the industry would still be largely policing itself.
'Willing to pay'
"It cannot be right that exam boards are allowed to make money from textbooks and training seminars. This commercial activity needs to be more tightly regulated.
"The provision of exams should also be separated from the provision of seminars and training courses. Such training is only open to those willing to pay, and this creates an uneven playing field for schools," he said.
In statements, three of the exam boards, OCR, AQA and the Welsh exam board WJEC, said they made no financial gain from the publication of resources for teachers.
A spokesperson for Ofqual said it was looking in depth at the commercial activities of exam boards.
"This includes the provision of text books and seminar events for teachers. We will not hesitate to make changes where necessary to protect the integrity and security of exams."
"While exam boards have already agreed to put in place additional controls for seminar events, our review will consider the role these events play in the system in the future."
Undercover filming
The Ofqual inquiry was ordered by Education Secretary Michael Gove after undercover filming by the Daily Telegraph revealed exam board seminars where teachers appeared to be being obtaining unfair information.
The boards featured by the Daily Telegraph investigation were Edexcel and WJEC.
Mr Gove has also said that he did not rule out that a larger scale reform might be necessary.
Mr Wood, who is head of a school in Leicestershire, said examiners and chief examiners should be banned from claiming any link to an exam group to promote their own commercial interests for at least three years after their last involvement in any examination.
He also recommends the return of formal oversight of exams at subject level in the shape of panels consisting of teachers, chief examiners and academics.