Cash grants allow real experiments in school science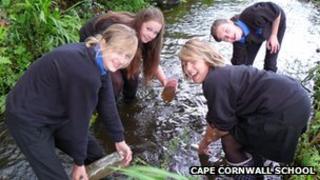 Schools are encouraged by the UK's top scientific body to bring cutting edge science into the classroom.
Projects, funded by the Royal Society, include a bioreactor being built by secondary pupils in Cornwall to test the viability of getting fuel from marine algae.
And a particle accelerator is being built by a team of Nottingham teenagers.
The Royal Society offered £45,000 in grants to bring science alive.
Each school will receive up to £3,000 and the opportunity to work with scientists and engineers from leading universities and industry.
Biology teacher Janine Walker of Cape Cornwall School near Penzance said: "We will be looking at the best way of growing and exploiting algae as a biofuel.
"We are right next to the sea where it grows. This technology is still at a very experimental stage.
"We're saying to the kids: 'If it works, you could be the one to discover something new. If you're lucky, you could make your first million!'"
Ms Walker will be running the project with Year 8 pupils and scientists from the Marine Biology Society in Plymouth.
They will add about a litre of an oily algae called "Sudan Black" into a simple bioreactor made of plastic bottles and tubes.
The aim is to devise the best ways of growing the maximum amount of algae and then of extracting its oil.
Rockets
Another grant will go to Trinity Catholic School in Nottingham, where pupils will build their own atom smasher.
They will construct a model linear particle accelerator and investigate particle collisions similar to those under way at the Large Hadron Collider at Cern in Switzerland.
At Cardinal Newman Primary School in Hersham, Surrey, pupils have already made rockets out of plastic drinks bottles. This project takes the concept of rocket propulsion a stage further.
Year 5 will work with engineers from a local business, Air Products, on designs for up to 10 different pressure-fuelled cars.
Science co-ordinator Declan Morton said: "Pupils will experiment with different types of plastic and wood for the chassis. They will need to balance weight with rigidity."
They will also be asked to work out whether pressurised air alone, or a mix of air and water, will propel the cars best.
The vice-president of the Royal Society, Professor John Pethica, said: "The Royal Society Partnership Grants scheme may be the first time that some of these pupils have had the opportunity to work with or even meet a practising scientist or engineer.
"We believe these experiences are both inspiring and empowering... and a sound understanding of how science 'works' is important for all of us."